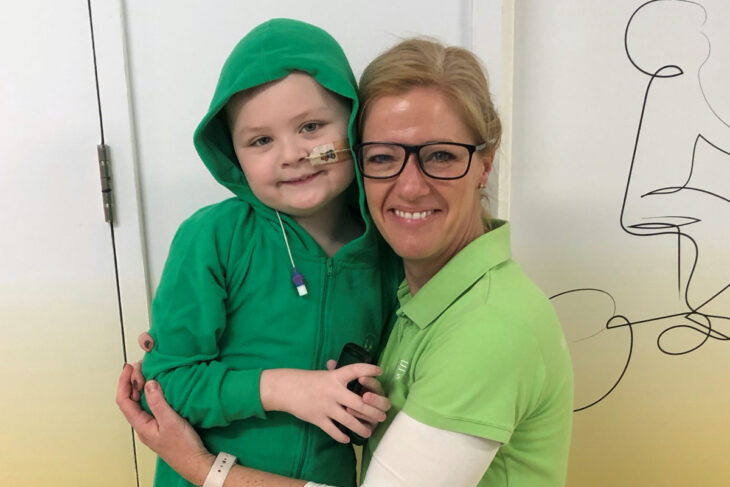 We're here to keep you moving forward
When your child is diagnosed with cancer or a life-challenging condition, life as you know it will probably feel like it stops in its tracks; replaced by a 'new normal' which is overwhelming and scary. This is where our Family Support Team come in.
We're here to make your 'new normal' feel less complicated; to offer practical advice and guidance and to find the best ways to support every single member of your family, so that no one feels like they're facing the future alone.
Every step of the way
When you're first referred to us by one of our partner hospitals, a Family Support Worker will be in touch within a few days. You'll then be given a main point of contact, so that you know exactly who to call when you need to and, if you want them to, they'll meet with you regularly from then on too.
It's also through your Family Support Worker that you'll be able to access our range of services, both in hospital at home; they'll take you through everything that we have to offer. We understand that your needs as a family will change as time goes on, and we're here to make sure we're offering you the right support, every step of the way.
At a time when many things will feel a bit out of your control, it's important to know that we won't be one of them. We'll take your lead on how we work with you, so that the level of contact and support we provide will always be shaped by you.
Once you've adapted around your child's illness and you feel ready to step away from regular support, we'll make sure you have all the tools you and your family need to keep moving forward.
How to contact your Family Support Team
When you first speak to one of our Family Support Team, they'll provide you with contact details for your personal Family Support Worker. If you're having to stay in hospital, our Family Support Team visit our partner paediatric wards every week, so they'll be available for you there too.
You can also call our main office on 0208 974 5931 or send us an email.