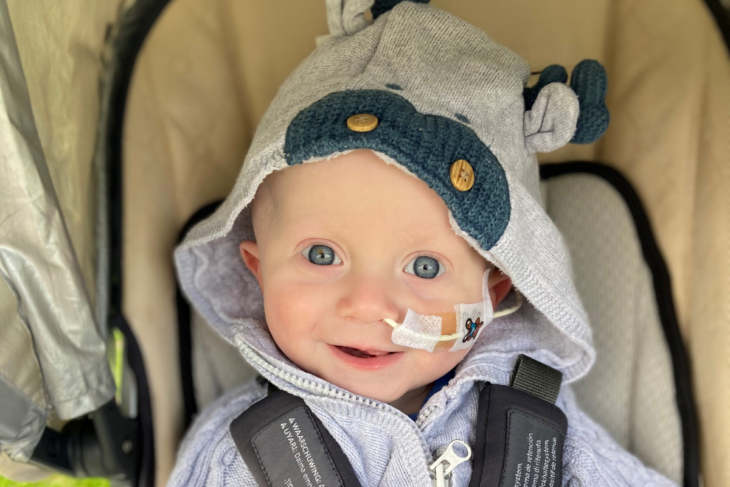 Taking your 14-week old son to hospital due to symptoms of vomiting and walking out with the news that they have a brain tumour, is hard to comprehend; for Jenson's parents the results of the CT scan turned their world upside down.
I felt like my heart shattered into a million pieces. He was suffering with hydrocephalus, so he was rushed to Southampton hospital where the pressure was released from his brain and he was put into an induced coma. He then had an operation to remove some of the tumour.
It was a few weeks later that the family were told of Jenson's cancer diagnosis, a high-grade glioma, and the extremely intensive treatment that he would have to undergo at such a young age.
"It has been a very difficult year for us with lots of hospital trips and operations, but Jenson takes it in his stride and does it with a smile on his face."
Jenson is being cared for at Royal Surrey County Hospital in Guildford; Momentum Children's Charity's newest hospital partnership, which meant that Jenson and his family were able to be referred to the charity for extra support, both in hospital and at home, with Family Support Worker Gemma there for them when she's needed, every step of the way.
Momentum came into our lives halfway through Jenson's treatment. It's been wonderful to know that someone is there. They've also looked after my daughter and made sure that she feels special and is focused on too during this tough time.
With Jenson's treatment also coinciding with the coronavirus pandemic, the family found themselves separated by strict, one-parent hospital regulations when he was undergoing treatment. For Gemma, being able to support them over the last eight months, has been invaluable:
"It has been a real pleasure to be able to help the family at such an incredibly difficult time" explains Gemma "During covid, mum was completely isolated on the ward, not being allowed any visitors and having to deal with everything alone. We spoke many times throughout, offering a listening ear and trying to find ways to support the whole family remotely. We managed to supply a media pad to help keep the family connected on their long hospital stays, and fairy videos and visits for Jenson's sister, Iris. They have all been through so much in unimaginable circumstances."
Momentum have also been able to support the family by offering them access to their respite services; holiday cabin breaks and boat trips down the Thames, aimed at helping to restore the emotional and mental wellbeing of the families they support.
"We had the most wonderful time on their Moments on the River boat; it was so relaxing and gave us the opportunity to make some happy memories in, what has been, a very difficult year."
"We never thought or imagined we would have to face this as a family, but Momentum Children's Charity has tried to make our lives a little bit brighter wherever possible."