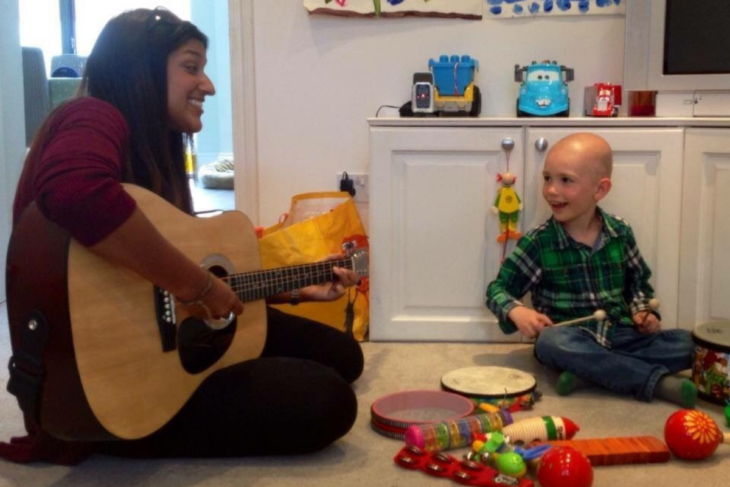 Rebecca had finally come to the end of her treatment plan and was looking forward to going back to work having taken a long break to recover. She thought her family's battle with cancer was over, so the horror of Harry's diagnosis was hard to take.
"I was shocked but also angry and frustrated. I had just been through cancer myself. It seemed incredibly unfair that it was now happening to Harry who was only three years old."
"We couldn't believe what was happening and were overcome with an unbelievable sense of fear and worry."
Having been diagnosed at Kingston Hospital, he was quickly transferred to the Royal Marsden Hospital, where he spent two and a half weeks. He was then sent home with a treatment path. However, shortly after, Harry started to experience very bad stomach pains. A trip to Kingston Hospital confirmed he had picked up E. coli. It took him ten long and strenuous days in hospital to recover.
It was during this time that the nurses mentioned Momentum Children's Charity to his mum, Rebecca.
"My initial understanding was that Momentum Children's Charity was a charity offering support groups only. The last thing I wanted was to talk to others about my situation, I just didn't have the emotional room for it at that time.
When I met Bianca it became very clear that there was something really special about the charity and there was a lot more that they could offer.
"Bianca came in, introduced herself and asked about my family. Freya, Harry's four-year-old sister, was struggling with my absence and the next day, Bianca turned up with two presents, one for Harry and a football for Freya. Bianca had remembered Freya's love of football. It was the first time during this period that someone had thought about Freya. It made me feel very emotional, it's a small thing that made a huge difference."
As Harry's treatment progressed, the family was able to take advantage of our New Forest cabin and music therapy sessions.
We wouldn't have gone away if we hadn't been offered a break at the New Forest cabin. Knowing it was provided by Momentum Children's Charity made it immediately feel like a safe place. We really needed the break from hospital and routine. It was lovely seeing Harry and Freya playing together in a way they hadn't been able to for six or so months."
Harry really struggled emotionally during his treatment. He started to lack confidence without his mother there, often experiencing feelings of anger, whilst feeling frightened and upset. We arranged music therapy sessions, one batch during his treatment and a second batch of sessions when he started maintenance. The aim was to help him express his feelings and give him an opportunity to interact with someone else.
Harry absolutely loved music therapy. He had a huge smile on his face during every session. It was wonderful to witness.
Harry completed his treatment in April 2017 and is now doing brilliantly.
"Harry is now seven years old and looks like he's 10! Chemo certainly didn't hold back his growth! He started junior school in September, plays football, tennis and swims."
"The biggest thing for me, was having someone there who understood. I knew I could talk everything through with Bianca, I didn't have to explain myself and she really helped normalise my situation."
"They are just there for you. The support they offer doesn't come and go. It's unconditional and is never withdrawn. It's bespoke to you and your family. I often think of the journey we have been on and all Momentum Children's Charity has done for us."