Blog
How we're working: safety and support
Family support workers
Therapies and wellbeing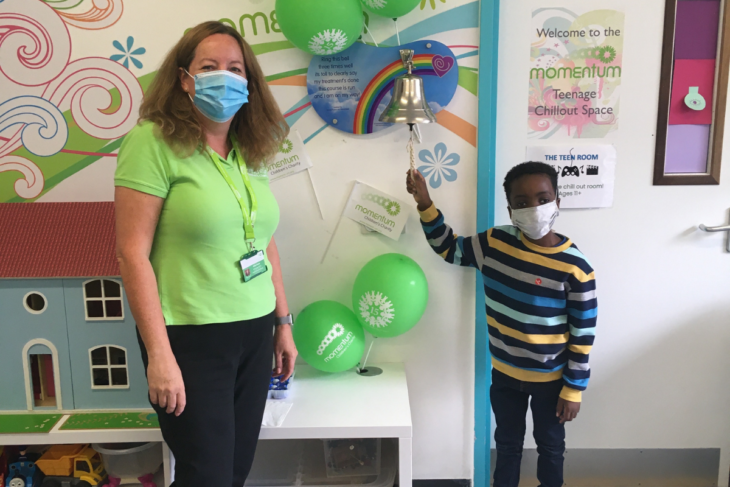 Adjusting how we work around coronavirus restrictions and safety measures, has been a huge learning curve, but it's been one that we've navigated with complete dedication to finding a way to maintain our vital services to families, so that they don't have to cope alone – particularly at a time when they need our support more than ever.
We know that some of our families will need to continue shielding and others may be cautiously resuming face to face contact for some of our essential services, so our offering continues to be tailored to meet the needs of each family; blending our virtual support services and socially distanced face to face support:
Family support workers
We've recently brought back our furloughed staff members and are working with a full team again. We continue to keep in close, regular contact with our families, offering a listening ear and practical advice especially as many of our families who have been stretched juggling the care of their child and needs of their family, alongside work and home life.
At the point of lockdown, our face to face support was quickly adapted to virtual support with calls, emails and texts. However, as restrictions lifted and knowing that some of our families felt a need to see us for a socially-distanced visit, our team have returned to doing some home visits. To do this, with our priority being the health and safety of both our families and staff, we've implemented home visiting guidelines and protocols, in line with government guidelines, and – where possible – will meet with families outdoors. If the weather doesn't allow for this, we'll see them in a well-ventilated room, ensuring that social distancing is maintained.
We've been able to reinstate working with our partner hospitals; either in the capacity of ward visits, or by attending MDT meetings with our NHS colleagues. To do this, we've worked closely with all teams to implement new protocols and processes and, on each side, we will be monitoring government guidance so that we can work responsively.
Respite services
UPDATE 5th NOVEMBER: Following the latest government guidelines, holiday parks are now closed and use of our cabins has been restricted. We hope to reopen the cabins early next year. Our boat trips are also on pause, but we'll review this in line with guidelines, family needs and what the winter weather is saying.
In July, we were able to reopen our respite holiday breaks and boat trips; with reduced capacity and household restrictions in place and adhering to strict cleaning guidelines, as well as working with revised measures for each of the holiday parks and marina, where our cabins and boat are based.
Thanks to a team of committed volunteers, these services have been kept busy all through summer, offering families the chance to exhale, make memories and escape the tough going day-to-day.
Therapy services and experiences
In the early stages of lockdown, we were able to move some therapies, like counselling, online. Sadly, there were some therapies which we simply weren't able to do virtually or with social distance restrictions, but we're pleased to say that we've recently started to offer face to face services; working closely with our providers to ensure they were working to our recommended guidelines, and with all families being sent a Covid-disclaimer ahead of time for non-virtual referrals.
Counselling: we're offering virtual counselling sessions to those shielding and if a family, such as those who are recently bereaved, feel they need face to face therapy, we have put all the necessary protocols in place to deliver this service safely, again following the government guidelines.
Music therapy: we've been able to facilitate both virtual sessions and home visits in gardens. Recently, we also launched a new 'music therapy pack', where children receive their own instrument at the start of therapy, this has enabled us to reduce contact points between our therapists and families further.
Play and art therapy: has also been adapted for socially distanced therapist visits or virtual sessions. Again, this has been supported with the new initiative of the child receiving a 'creative pack'; the pack is unique to them, for them to use and keep throughout their therapy sessions and beyond.
Tutoring: our online tutoring service was in high demand from April to June, the first few months of lockdown when schools were closed. This service continues to provide children who may need to continue to shield or have been struggling to catch up on missed school with the opportunity to have a one to one tutor to support them with their studies. Working with the families we assess whether online or face to face is needed.
Virtual peer to peer support group:recognising that many of our families would not be meeting families in similar situations on the wards, due to visitor restrictions, we trialled an online peer to peer support group focusing on 'Living with Covid', we plan to continue to run these sessions on a quarterly basis in the hope that these will evolve to face to face sessions when restrictions are lifted.
Character visits and special messages: our fairies, princesses and celebrity supporters have all rallied to the call of virtual support, sending special personalised messages and offering interactive virtual experiences to the children we support.
Doorstep owl visits: A new addition to our experiences, has been taking our real-life mascot Mo the Owl to visit families on their doorsteps or in their gardens. A fun and interactive way to bring some light relief to families and children without them having to leave their homes.
MediaPads We quickly understood that most of the families we support would need to be shielding for the foreseeable, and that for those having treatment in hospital, they would also be faced with separations from the rest of their family due to new hospital restrictions dictating one-parent stays. With this in mind, MediaPads have become a staple support offering of ours – and one that we will continue to offer to those families affected by such separations.
Echoes
Our Family Support Workers have continued with their support to bereaved parents and siblings who have not been able to grieve as they might wish. Regular phone calls with parents, support for bereaved siblings and help with funeral plans, in these particularly challenging times has never been more needed.
Hospital projects
Thanks to funding from TP ICAP and the dedication and commitment of the teams at our new partner hospital, Royal Surrey County Hospital in Guildford, as soon as it was safe to do so, our hospital projects team were able to complete a sea-life themed refurbishment project on the Hascombe children's ward; transforming clinical corridors with some friendly-faced octopus, leaping dolphins and bright, aquatic colours.
New referrals continue to come through to us, and we continue to be committed to making sure that no family with a seriously ill child has to cope alone. We'll be keeping a close eye on changing guidelines and any impact that such changes might have on our services, both in hospital and at home, but for now we're extremely proud of our team and all of our families who have adapted and persevered through these trying times.