News
Children's author Dame Jacqueline Wilson launches new boat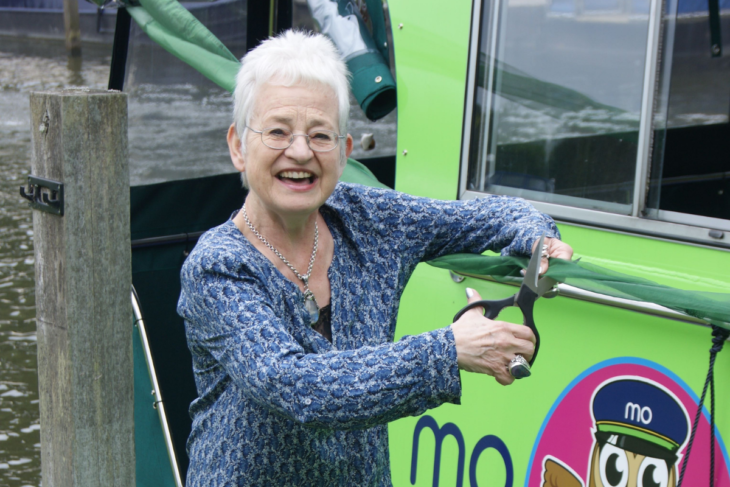 The Kingston-based charity, which supports children with cancer and life-limiting conditions across SW London and Surrey, is thrilled to have been able to acquire the 40ft wide beam canal boat which will provide a sanctuary and place to reflect for families who are supported by Momentum Echoes – the charity's support group for bereaved parents.
Momentum's patron and Kingston resident Dame Jacqueline Wilson said: "I'm so pleased to be a patron of Momentum. It's such a special charity and does so much for families who have seriously ill children. I think the Momentum boat is a wonderfully imaginative idea. As Ratty said in Wind in the Willows, 'There is nothing so good as messing about on the river.' The boat will give our families a chance to relax and enjoy some respite care. "It's such an exciting, imaginative and glorious thing for everybody and I am thrilled to be cutting the ribbon to launch Momentum's new boat."
Charlotte Roberts, who helped set up 'Momentum Echoes' support group after her young son Thomas sadly lost his battle with cancer in 2013, believes 'Moments on the River' will provide much-needed respite for many of Momentum's bereaved families.
Charlotte, who went on to have another son in 2014, said: "Moments on the River' is such a lovely, tranquil place for bereaved families to escape to. Being on the water is very calming and peaceful and having our own dedicated boat is very special.
"I know from personal experience how much the boat will mean to families who have lost a child. It is such a wonderful addition to the charity's Family Support Programme and we can't thank our supporters enough for making it possible."
Momentum Echoes families can take the boat – which sleeps four – out for a day or longer and can either skipper her themselves or a qualified skipper can be provided by the charity. Although initially priority will be given to the parents of children who have lost a child and to the families of very seriously ill children, Momentum hopes to eventually make the boat available to all the families it supports.