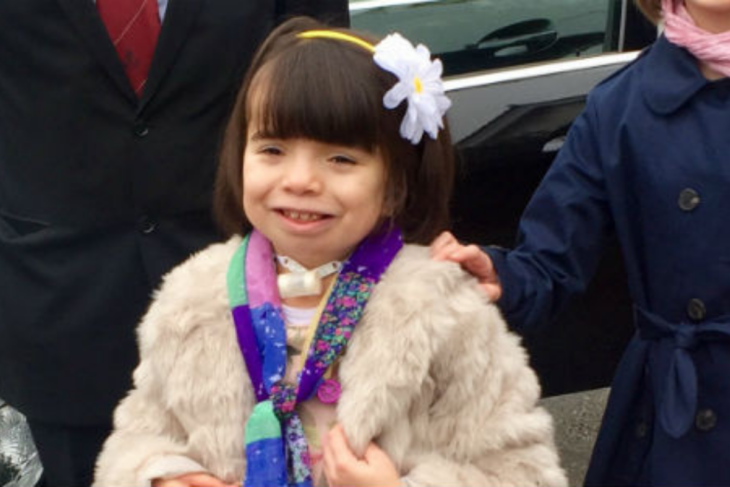 "Zoë inherited a very rare genetic disorder from me, called Osteopathic Striata with Cranial Sclerosis (in layman's terms: stripy bones with thick skull), which meant that she had to be unexpectedly transferred to Great Ormond Street and have a tracheostomy inserted at birth as she had a completely blocked airway. She actually died for six minutes. The condition is lethal in boys and – until Zoë – thought to be relatively innocuous in girls. As a result of her tracheostomy, she spent a lot of time in hospital with chest infections when she was really little. Then she started to get stronger and started school and the hospital stays became less and less.
However, when she was about to turn five, she started to suffer from horrible headaches which in turn led to her suffering from mini strokes. She was then diagnosed with Moyamoya, a neurovascular condition that limits the amount of blood flow in her brain and puts her at high risk of a stroke. She continued to have the headaches and the mini strokes, which eventually resulted in learning difficulties due to sensory processing problems. She has had ADHD all her life but the mini strokes brought on mild autism. She has had two major neurosurgeries to revascularise her brain but, unfortunately, they were unsuccessful.
Day to day, we get on with life like everyone else. Zoë has just mastered the skills to be able to get ready for school on her own, which was cause for celebration in our house. Her fine motor and gross motor skills are below that of a child of her age, so simple skills like brushing her teeth have taken longer for her to master but she got there. She has low muscle tone and hypermobility in her joints.
She has no siblings but we have a cat, Nessie, who acts like a little sister. Zoë loves her but from a distance, as she does with all animals. She is scared of them but wants to have them in her life. I will often get called to fetch Nessie when Zoë is playing, especially Lego as they both seem to love it so much. Zoë likes to build with it, Nessie likes to steal it. We also have a hamster called Sofia. Again, she's Zoë's but Zoë loves to take care of her rather than handle her.
Educationally, she struggles with literacy due to visual processing problems and the changes that the Moyamoya have done to her brain. Tracking words on the page and phonics are a real struggle. The left side of your brain is where most of your educational functions are and that, sadly, is the part of the brain that has been most affected. Any injury to that part is going to have an impact on a person's ability to link sound to symbol, somewhat key for learning to read. She loves maths, art, computing and anything to do with dancing and music. Movement and sounds very easily distract Zoë. She also gets overwhelmed by the sensory input so can shut down when everything becomes too much.
Her autism causes her to repeat actions and thoughts over and over, which means that sometimes she struggles to shift her focus from one thing. At school, this means that she will organise and reorganise her desk or pencil case over and over again, especially if she is finding the lesson difficult. She has a speech disorder so is having weekly speech and language appointments at Great Ormond Street to help bring her on. As the Moyamoya causes word confusing and word finding difficulties, she has reverted to trying to sign on occasion. She is in mainstream school but the large class sizes and national curriculum are proving too much of a challenge so we are in the process of moving her to a specialist school.
Emotionally, she comes across as a very confident and happy little girl but there are subtle signs of anxiety if you look for them. She compulsively rips at her fingers and they are sore from being picked at. And when she is stressed, she repeats actions over and over again. She is becoming more aware of her differences but wants to be like everyone else. She has phobias too, such as anyone dressed up in fancy dress or in a costume. This is a bit of a problem at Christmas time as she is terrified of Santa and we had to be really careful when we went to Disneyland Paris. An unexpected incident with Baloo caused a major meltdown. The autism causes her to be fearful of new situations and places. We explain who and what is going to be there. Zoë loves people but finds hugging very stressful so high fives a lot. She will hug those she knows really well but even then, it's sporadic. She also struggles with emotions as she does not read faces very well nor can she label them nor does she understand empathy.
Zoë and her Dad have season tickets to AFC Wimbledon so, when they got into the play off final, we all went to Wembley. She had never been to an away match before, swore she never would (probably down to the unfamiliarity of the different stadia) but this was Wembley. As the stadium is so huge in comparison to Kingsmeadow, we took her into see it a couple of hours before so that she could see its size empty and not be overwhelmed by all the people. Her eyes nearly popped out of her head. It worked. We had a fabulous day.
Hospitals are always a part of our life. We have multiple appointments for a variety of specialties, eight of them at Great Ormond Street. Stays are sporadic. Zoë can avoid hospital stays for six months and then be in several times in a month. It's very unpredictable.
Momentum has supported us the whole way, mostly through Kingston Hospital. I won't take Zoë anywhere else as the staff know her so well but, also, Momentum have done so much work there. It has such a lovely atmosphere. The décor is gorgeous, so child-friendly. Even when you are ill and miserable, seeing parrots and lions on the walls does cheer you up somewhat. The playroom is one of Zoë's favourite places. We've even been to stay in the Momentum holiday cabins in the New Forest, twice, and had a lovely time. And I don't think we have missed a Momentum Christmas party in seven years.
Last time Zoë was unwell and admitted, we got to the ward and bed at 2.30am. We were then woken up at 7.30am and Zoë was feeling very low as she was exhausted from the pain and the lack of sleep. It's very unlike her and stressful for me to bear witness to. We had just had breakfast when a fairy appeared. As I've mentioned, Zoë is terrified of people dressed up but this was Momentum's very own Fairy Blossom who was so lovely and beautiful. Zoë was utterly entranced. She spent half an hour in our bay and all the children were delighted. Zoë was buzzing after that. It's the little touches like that that make Momentum so special.
Before Christmas Momentum sent us tickets to attend the Lord Mayor of London's Children's Party in January. What a treat! Zoë, her friend and I, were chauffeur-driven by the local Mayor of Kingston's private chauffeur all the way there and back. The children were all treated like royalty and Zoë declared it officially the best day of her life.
On paper Zoë's condition, along with her autism and ADHD, looks hideous but, in reality, Zoë is an absolute joy and inspiration. She loves Olly Murs, Rita Ora and Katy Perry. She loves singing and dancing, her bedroom and her family. For a child that can't read well, she adores books and stories. As most kids of her generation, she loves a screen and playing with her friends. The fact is that she is a feisty, funny, caring nine-year-old girl, who happens to get very unwell from time to time and no-one really knows what her future holds.
But one thing is for certain. Momentum are always there for us. They always have been and I know they always will be. If I need to talk to someone they are there on the other end of the phone, and that is something that is utterly invaluable."