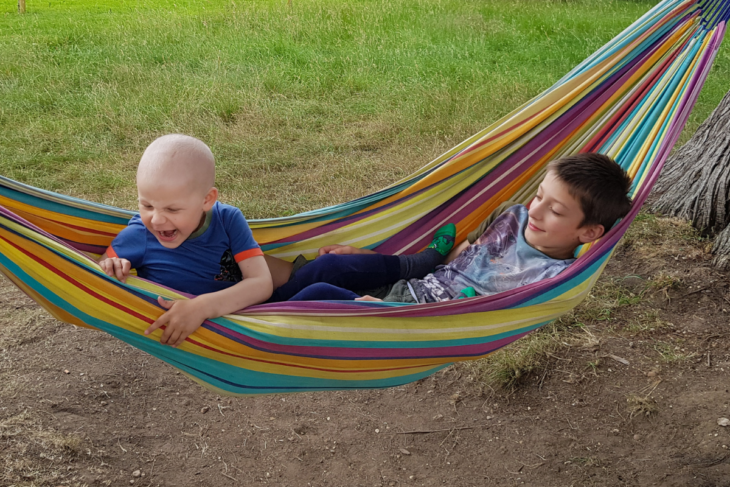 "We knew something was wrong with Victor when he got facial palsy out of nowhere – half of his face froze, he couldn't speak properly or close his eye – but we never suspected it would be blood cancer!"
Natalia and her husband took Victor to Kingston Hospital where they learned the devastating news of his T-ALL diagnosis "We were told his white blood cell count was 310, where a reading of even 40 would be alarming. We learned he had blasts in his spinal fluid, masses in his lungs and his kidneys and liver were failing. He was immediately taken to PICU in St George's Hospital"
Victor spent three weeks there before being discharged, only to be rushed back to Kingston Hospital days later with neutropenic fever.
It was then when I first met Momentum Children's Charity. I was still too deep in shock and panic to be able to speak to them, but just knowing there were people there who wanted to help us was comforting.
From there, Victor's intensive treatment and high risk status meant the family were living day to day with huge uncertainty "We never knew what was going to happen – in the morning he would be good, but just a few hours later we could be rushing to hospital with a high fever or needing an emergency blood transfusion."
All of this had a profound effect on Victor "He stopped walking, stopped talking and became very low. I was trying to stay positive and not allow fear and depression to take over, but it was hard."
To help, Momentum arranged for a play therapist to come and visit weekly
At first Victor didn't want to participate in Play Therapy, but after a few weeks he developed a bond with Liz, his therapist, and began really enjoying their sessions. It was so good to see him smiling again and playing like a three-year-old should."
Victor's Family Support Worker Niki kept in close contact with the family the whole time too "Looking back I can see just how much support and comfort I got from Momentum. I don't have family here and many friends decided not to bother us with calls, which I understand, but I felt so lonely and scared.
Niki calling to ask me about Victor and reassure me that I was doing a great job, gave me strength to keep going.
Once Victor started his maintenance phase, Momentum organised for the family to get some time away in their New Forest holiday cabin "It was truly amazing! After almost a year of intensive treatment with long hospital stays and painful side effects, we could finally relax a bit and enjoy family time.
Victor's first words when we got there were 'nurses will not find us here!' Having endured weekly blood tests, it meant so much for him to be able to take a break.
Momentum also arranged for them to get some respite closer to home on their 'Moments on the River' canal boat "We spent a night there and the boys absolutely loved it! It was great to see them so happy and we all needed that break from normal life."
Today Momentum and the Family Support Team are continuing to be there for Victor and his family with lockdown-safe support including doorstep owl visits, deliveries of treats and regular calls to check in. "Momentum have become like family to us. I'm so grateful for all their support and big hearts! I know without their help it would have been so much harder to go through all this; their psychological support and respite breaks have given us so much positive energy."