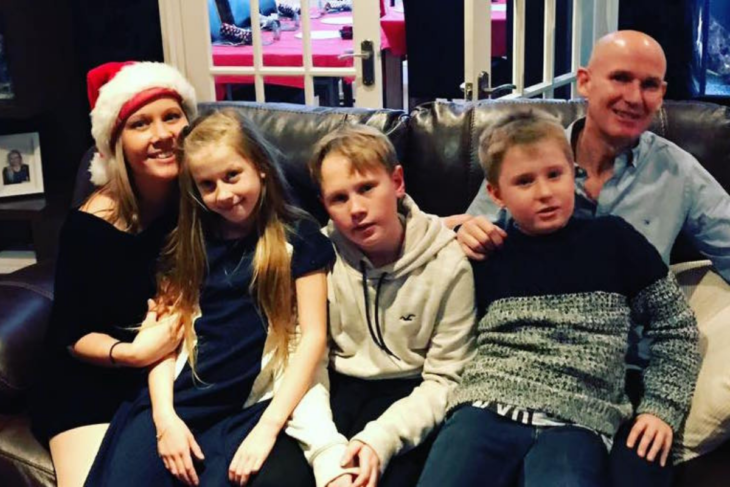 A major operation and two years of gruelling cancer treatment followed, but Spencer was finally given the all-clear, and the family are looking forward to spending Christmas together in Florida.
Spencer's battle with cancer has led Kerrie to join our Family Support Team as a Family Support Worker to help others who are going through the same unimaginably hard time that her family went through. Here she tells her story:
"When our eldest son was diagnosed on Christmas Eve with a brain tumour our lives were turned upside down and changed forever.
The devastation, shock and reality of the news we received was frankly too much to bear. Our 11-year-old little boy should have been looking forward to opening his Christmas presents and instead we were in a hospital dealing with this traumatic news. Our other two children (aged 8 and 9), who had been beyond excited about Christmas, didn't even wake up with their parents and eldest brother on Christmas Day, as we were in hospital with Spencer.
We were utterly broken. It's the only word I can find to describe how we felt. Christmas Day was a blur and although we tried the best we could we were just patiently waiting for the phone to ring to call us in for Spencer's emergency brain surgery.
Finally on 29 December we left our little boy in the hands of the surgeon (Mr Martin) who is my real life hero, and who without doubt saved my son's life. Six hours of surgery left Jon and me pacing the corridors (by far the longest day of our lives). Spencer opening his eyes in intensive care and saying hello to us was a moment we will never forget.
New Year came and went. We spent New Year's Eve in St George's Hospital in Tooting with me at Spencer's bedside and Jon at home with our other two children, praying that 2016 would bring us good news.
Sadly this was not to be the case. We received the second lot of devastating news that the tumour was in fact cancerous, and that Spencer would have to embark on an even longer journey of treatment.
This involved daily radiotherapy for six weeks, and chemotherapy for six months.
No family should ever have to deal with this horrific journey, we are very fortunate to have the support of some amazing people in our lives, without them I'm not sure I would still be standing.
Some of those amazing people were the team at Momentum. I honestly cannot tell you what an amazing wonderful charity they are.
They have been on the end of the phone for me in the wee hours of the morning when I have been collapsed on the bathroom floor, feeling totally helpless wondering how I'm going to manage to get through another day putting a brave face on for my children.
They helped me with a surprise makeover room for Spencer which was totally awesome. They have respite holiday lodges in the New Forest for families who need a much-needed break, which we were fortunate to be able to use, and offer all kinds of other amazing therapies for the whole family.
For such a small charity they are there unconditionally, and the work they do is invaluable to families who find themselves in this horrific situation.
Thankfully Spencer is now in remission, and the time has now come for me to be proactive and help towards making someone else's journey that little bit easier.
I feel privileged to have had their Family Support Worker Rebecca by my side while Spencer was going through treatment. She had been through a similar ordeal and it meant everything to me to be able to talk to someone who knew what I was going through.
I am now proud to be in a position to support others through Momentum as I recently started working for the charity to support other families whose children are being treated for cancer and other life-limiting illnesses at East Surrey Hospital.
In addition to the family support service, which offers music therapy, counselling, respite holidays and trips and treats the charity also carries out the most stunning refurbishments in children's wards across SW London and Surrey."
Since Spencer finished his treatment in September 2016 he has been in remission, is back at school with his friends, and the family have returned to some normality.
Kerrie says they are all very much looking forward to spending this Christmas in Florida, which will be the much-needed family time that they have missed out on.
Kerrie said: "We're counting down the days. I think I'm even more excited than the kids. Sea air, great food, relaxation and most importantly two weeks together as a normal family is what we all so desperately need. I can't wait!"