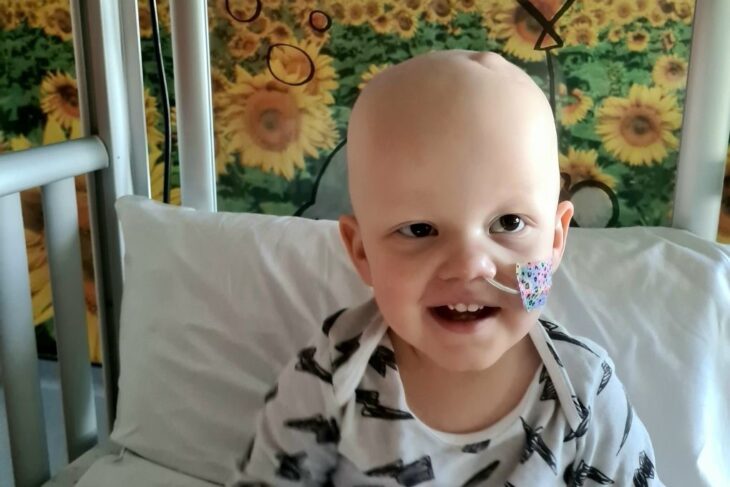 The 14th April 2021 is a day Emily will never forget, it was the day her 16 month old daughter, Sky, was diagnosed with a brain tumour.
Scans showed her tumour had already spread within the brain and that she had three tumours. She quickly underwent a huge operation at St George's Hospital to remove as much as possible. The surgery was frightening but then she also suffered complications, as she developed meningitis, sepsis and still had one large tumour and a few remaining small groups of cancerous cells.
Emily said: "Sky spent a long time in intensive care after the operation, but someone from Momentum came to see us every few days. This was a lifeline to us at what was the worst time of our lives. Looking back, being able to talk to someone about what was happening and how we were feeling really helped us process the situation."
Having one person who is assigned to you gives you a sense of consistency and you can build a relationship. They have been with us through ups and downs especially in what is a very lonely environment, I still feel a sense of relief when they walk through the door.
Sky has since recovered from the complications after surgery and following many tests her tumour was diagnosed as a Medulloblastoma (MBEN). She has new been transferred to Great Ormond Street Hospital (GOSH) where she is currently half-way through a 37 week course of chemotherapy, some of which is given directly into her brain.
Sky spends about half her time as an inpatient at GOSH as well as many other trips into her local hospital. The rooms at Royal Surrey Hospital are decorated and the family usually stay in one of two rooms. Emily told us how Sky enjoys interacting with the wall art in these rooms: "One is decorated with sunflowers which she loves, 'flower' was even one of the words she learnt in this room. The second room is underwater themed and as soon as we arrive Sky has to pretend pop all of the bubbles on the wall, every single time!"
Sky suffers terribly with side effects but through all of this she has literally been the bravest hero we could ever imagine. Our happy girl fills these dark days with light.
Sky has benefitted hugely from regular visits from her Momentum Family Support Worker and the charity have given her some magical experiences, such as meeting a real life 'Elsa', which she loved.
We hope to use more of the charity's services when Sky is feeling a bit better, such as meeting other Momentum families at their coffee mornings and taking a trip to stay in one of their holiday cabins.