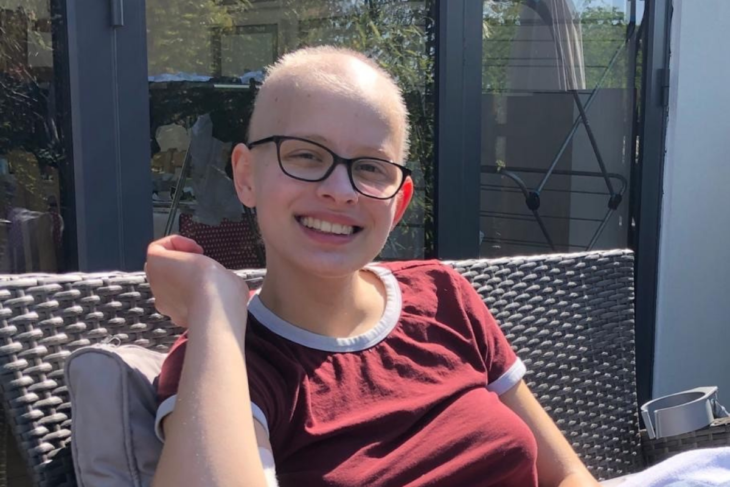 With very little time to make sense of the news, Phoebe had to have major surgery to replace her femur and knee. She then began an aggressive cycle of chemotherapy and immunotherapy to fight the cancer, receiving treatment at both UCH and Kingston Hospitals. It was whilst undergoing treatment at Kingston, that Phoebe was referred to Momentum Children's Charity.
The first meeting for the family with Niki, their Family Support Worker, was a particularly poignant one, as it was the day that Phoebe's thick blonde hair began to fall out in clumps and the reality and side effects of her treatment started to take their toll. Niki explained about the charity and how they were there to help in any way they could – from offering creative therapies and psychological counselling to respite breaks and special family experiences.
Despite not being able to be there in person due to increasing lockdown restrictions, Momentum was determined to ensure that the family wouldn't have to cope alone. Alongside regular check-ins, the charity arranged for Jacqueline Wilson (one of Phoebe's favourite authors) and one of the stars of Six (her favourite musical) to send her personal video messages as a way to lift her spirits. They also organised for their real-life mascot, Mo the owl, to visit the family on their doorstep while Phoebe was shielding. As a huge Harry Potter fan and lover of animals, this was a very welcome treat. Mum Hannah recalls:
Things were so hard in those early days; the little surprises made such a difference and put a smile on my girls' faces again.
When restrictions eased, Phoebe and her family managed to enjoy a couple of days out on the Thames on Momentum's riverboat, allowing them to have some precious quality time together between chemotherapy sessions.. Mum Hannah said:
It's been so hard not having anything to look forward to over the past few months, so the boat trips meant the world to us as a family."
Since those early days, Phoebe has come on leaps and bounds and has even been vlogging for the charity as a way to help inspire and comfort other young people going through similar situations. She's now finished her treatment and was recently given her 'no evidence of disease' result, which the family celebrated with a respite break at Momentum's holiday cabin in the New Forest.
The cancer journey, and ripple effects on both the patient and the family, last long after treatment has finished; Momentum Children's Charity will continue to support Phoebe and her family for as long as they're needed.