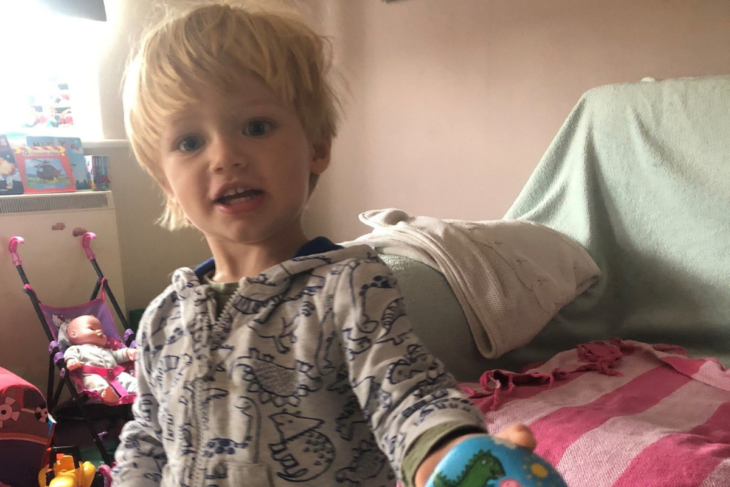 "We spent three long days in hospital and after an MRI scan, I was told that Oliver had a brain tumour. I couldn't believe my one-year-old child was going through this. I spent that entire Christmas just trying to process the news. We were meant to be spending it with grandparents but I was scared to travel and be away from the doctors and hospital, so we stayed at home alone."
The tumour was benign, which meant that it was stable and not growing at that time. As a result, Oliver needed MRI scans every three months to keep an eye on the growth.
"The wait was incredibly painful. Part of me wanted it to grow so we could tackle the tumour and start the treatment, which was inevitable. But another part of me didn't want it to grow so that Oliver didn't have to experience the effects of chemotherapy. We waited eight months in total."
Georgie was first introduced to Momentum Children's Charity in August 2018, after a nurse at Kingston Hospital gave her further information on how they could support families like hers. Niki, one of the charity's Family Support Workers, was soon in touch with Georgie to discuss the type of support that would be most beneficial.
"Momentum Children's Charity have been absolutely fantastic; I honestly couldn't have coped with the last year if I hadn't had their support. I was able to talk to someone over the phone and in person about everything and anything. I am a single mum and it was a very lonely time, I really needed the support".
After eight months of waiting, the tumour had begun to grow and it was time for Oliver to start chemotherapy. Oliver was two years and four months old. The first six months of chemotherapy did not work, so in January 2019 Oliver begun a new treatment programme.
As a single mum, Georgie was finding it difficult to look after Oliver, organise hospital visits/treatment and keep the house in order. To help Georgie, Momentum Children's Charity arranged for a play worker to visit their home every week.
Momentum organising a playworker meant I was able to get stuff done around the house, whilst Oliver had a fabulous time playing. It took the pressure off me for a few hours which was really needed.
Georgie and Oliver also visited the charity's cabin in the New Forest, during a break in his treatment.
"We absolutely loved the cabin in the New Forest. We had an amazing respite break with grandma. It was a chance for us to escape London, hospitals and the reality of it all. Oliver loved the beach and enjoyed throwing pebbles into the sea. It was a chance for us to all bond together as a family. Oliver loved it so much he keeps asking when we will return to 'his holiday home'."