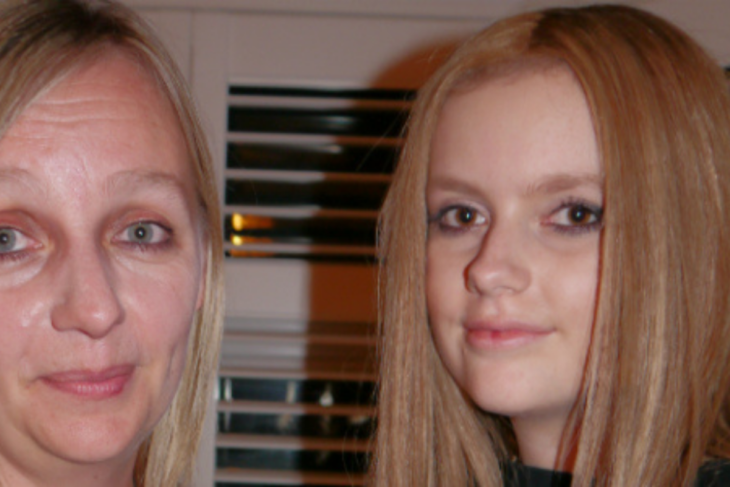 The Family Support Team at Momentum knows that each person copes with a cancer diagnosis differently, which is why family support is tailor-made, depending on specific needs.
Megan, by her own admission, dealt with her diagnosis in a very calm and philosophical way, which she says has helped her cope with her subsequent treatment and lengthy hospital visits. She also found strength in a recent friendship with another teenager supported by Momentum, whom she could share her experiences with.
Megan looks back at the last few months which have been a huge challenge for her and her family.
"I remember it was just before Christmas and we were decorating the tree when my mum noticed some random bruises on my legs. I hadn't really thought about it too much but also couldn't work out how I had got them. I had also been suffering with back pain, so we decided it was best for me to go to the GP," said Megan.
Blood tests showed that Megan's platelet count was very low. Further tests revealed every parent's worst fear … Megan had cancer.
"When I was told it was leukaemia of course I was sad and shocked. But I realised being angry doesn't change anything. I guess I just found a way to cope with it in my own way. I saw it as something I would just have to get through. You have to deal with these things in life," said Megan.
"I remember the consultant saying to me "If you are going to have cancer it is one of the best cancers to have", which were encouraging words that I clung to in the weeks and months that followed."
Megan's parents were obviously devastated, although Megan says that her mother, who is a nurse, seemed to handle it well. Her younger sister was very brave in front of Megan, but as Megan later discovered she had been struggled to come to terms with her sister being ill.
Megan immediately started with low intensity treatment at the Royal Marsden Hospital but suffered with a serious stomach infection which meant she couldn't keep fluids or solids down. She spent long periods of time in isolation which she says she found the most difficult period to deal with.
"It's just you and four walls and you just stay in this one space for days on end with very few visitors. It's lonely and miserable but I just had to keep looking to the future and staying positive."
She remembers in particular Dolphin Ward at Kingston Hospital which Momentum has extensively refurbished and where Megan spent long periods of time.
"It was so bright and colourful and unlike so many of the other hospitals that I had been to. It makes such a difference when you get to look at uplifting images all day and the clinical stuff almost fades into the background. It's so lovely that Momentum has been able to do this."
Due to her stomach infection Megan was fed via an IV drip for over two months. By February her shoulder-length hair had started to fall out.
Megan said: "The IV drip was pretty awful and my hair falling out made me feel sad, but then we looked into natural-looking wigs and I found one that I really liked. It was completely my colour and I got it cut into a style that I liked."
When Megan started to feel slightly better she and her family went out on a boat trip on Momentum's canal boat 'Moments on the River'.
"It was just for a few hours but it was such a lovely break, away from all the hospital tests and treatment," said Megan.
And she added: "Just having the support of Momentum for my family has been amazing. Knowing that we have someone who understands what we're going through at the end of the phone has been amazing. I know my mum is always getting emails from Momentum asking how we all are. It's been such a support.
"Momentum also put me in touch with another girl my age who is going through this and she has been so lovely. We just sit and talk and totally get what the other one is feeling."
Megan has responded well to treatment so far and hopes to complete her course in August.
She said: "I consider myself lucky because they caught it very early. Hopefully I will feel well enough soon to go back to school full time and then hopefully we can go on holiday to one of Momentum's holiday cabins in the New Forest. That is definitely something I am looking forward to."