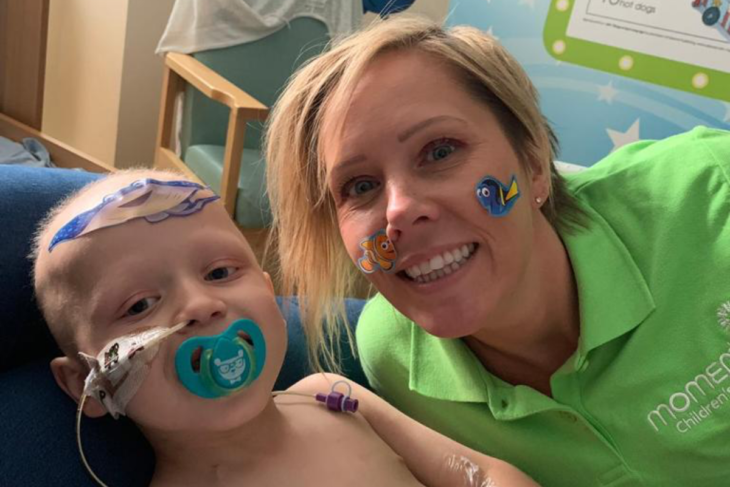 On the 14th December, Chloe found herself in A&E telling doctors she would not leave until her four-year-old son, Jaxson, was given a blood test. This was whilst her eight-week old daughter, Darcey, and her five-year-old son, Mason, were with their grandmother at home. She knew something wasn't right but was not prepared for what followed.
After a long wait, and an uncomfortable overnight stay for a new mum who had just had a C-section eight weeks earlier, they were taken upstairs at East Surrey Hospital, where they were given the news that Jaxson had cancer.
They were quickly rushed to St George's Hospital in an ambulance. Jaxson stayed in intensive care for a week and a half before eventually moving to Pinkney Ward, where he spent most of the Christmas period.
Chloe, a single mother to her three children, remembers the shock, panic and pain too well.
"I was told that if Jaxson had not been diagnosed that day and they had not taken him to St George's when they did, he wouldn't have made it. Our Christmas was tough but I can't imagine what it would have been like if the worst had happened."
At St George's Hospital, Jaxson was diagnosed with Non-hodgkins Lymphoma. Jaxson also has Dystonic Cerebral Palsy which was something else he had to contend with during treatment. It meant his muscles could not handle the changes from chemotherapy, which left him paralysed for two months.
Soon after diagnosis, Chloe was introduced to Kerrie, one of our Family Support Workers. After initially giving Chloe's mum a Momentum Children's Charity blanket as a gift for Jaxson, Kerrie was soon offering emotional and practical support to the whole family.
Kerrie was fantastic. I was able to ask her questions about anything and everything. She wasn't only on my side; she was amazing with all my children and she got on so well with Jaxson; when he was in isolation, she'd sit with him and paint.
"There was really only myself and my mum dealing with everything. I've had to be strong for so long, I can't believe it's been over a year and I still feel very numb from it all. I am still in frequent contact with Kerrie and I know I can message her whenever I need, which means so much to me".
Mason, Jaxson's five-year-old brother, who is autistic, struggled to deal with everything going on, as Chloe explains.
"Mason became very withdrawn and violent at school, which was unlike him. He couldn't handle his younger brother being ill, me being absent and everyone in constant tears. He didn't understand what was going on. He was confused, hurt, frustrated and was looking for someone to blame".
Momentum Children's Charity were able to offer play therapy sessions to Mason, to help him better deal with his emotions.
"It was amazing, he loved it and the sessions definitely brought him some joy and focus at a time of turmoil. I am so grateful to all the support from Momentum Children's Charity. As Jaxson's treatment continues, I know I can lean on them."