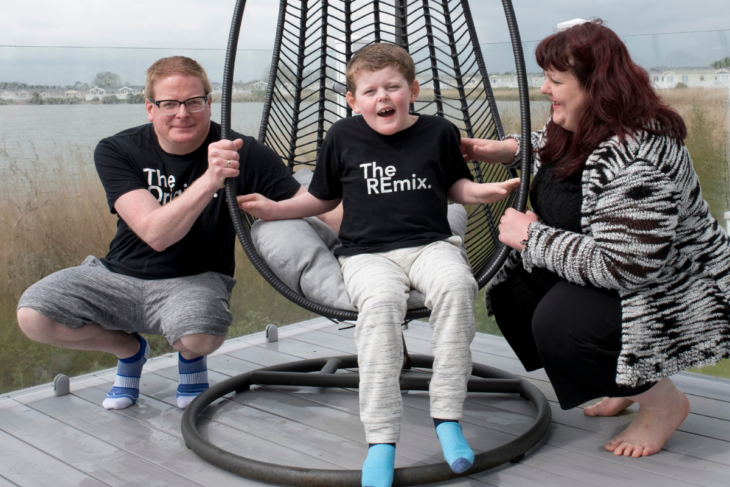 "George was born on the 14th of September 2012, a baby brother to his sisters Maisie and Martha. He seemed a normal and healthy baby until the health visitor noticed that he wasn't meeting his milestones."
George was sent for further tests, and on the 23rd March 2013 his family were told the difficult news that he had MECP2 Duplication Syndrome, and life as they knew it stopped.
"We were totally devastated and didn't know what to say or do. We'd never heard of MECP2 before. We soon learnt that George was the 40th case known worldwide – it was so rare."
George has spent most of his young life in and out of hospital, so much so that it was at Hascombe Ward, at Royal Surrey County Hospital, that he defied the odds and took his very first steps. Then in February of 2020, George was diagnosed with epilepsy, and it was at this point that the family were referred to Momentum Children's Charity.
It's been lovely to have the support of our Family Support Worker; to know there's someone you can call whenever you need to, even if it's just for a chat.
"George is non-verbal, although he does make lots of sound, has a cheeky nature and has a smile that melts your heart to go with it. We have learnt to not take life for granted, and every new thing George learns is a blessing. We try to do everything we can to make it possible for George to join in with day-to-day things."
When Momentum offered us a family trip on their river boat, we didn't think twice and all had such a great day. It was lovely to do something as a family. To hear them all laughing together; just being brother and sisters and not worrying about anything was priceless.
Momentum also organised for George to receive a MediaPad to aid his learning and help him access much-loved music sessions, which was particularly needed through lockdown. The family also got to enjoy some time away together at the charity's newest holiday home at Church Farm, in Pagham.
When the charity ran a competition to rename their cabins, there was one name that came to the family straight away and was chosen as the winning name for their Church Farm home.
"We chose to name it Mo's Sunset Lagoon because George loved to sit in the egg chair whilst we were there, just watching the sunset and listening to the sound of the water. He'd sit and watch it for ages, and it was clearly very relaxing for him."
"Momentum have been great and really helped George, and our whole family move forward, they really do make a difference and it's nice to know you have someone at the end of the phone for a chat or support."