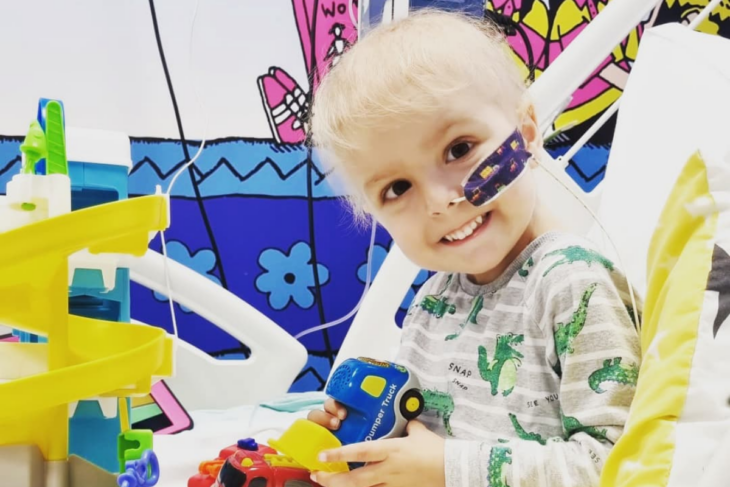 "When George was sent for blood tests after having a few concerns about his health we had no idea we'd be receiving such devastating news. It was incredibly scary.
"His first ever night in St Peter's hospital was spent in the room which features the Momentum owls. George was prodded and poked, so on day two as we left to go to St George's, his hands were both heavily bandaged from blood tests and transfusions. Despite this, he still had a huge smile on his face, as he's a huge fan of vehicles and a ride in a real life ambulance was a very exciting prospect for him.
We were introduced to Momentum within those first few days, and through every part of this journey so far I've felt propped up, particularly by my Family Support Worker who has been a rock through some very challenging times. She is just wonderful.
"It has been beyond challenging to get through the last six months. There have been times when our son has been barely recognisable, less so physically but more so in himself. The side effects of the long list of drugs which he's been given are way beyond anything I could have ever imagined. I remember breaking down in tears one day and I knew I couldn't cope on my own.
"I have called our Family Support Worker in tears and she's given me her undivided attention at the drop of a hat. She has sat with me through day visits at St Peter's while George has had treatment and helped me cope with my emotions while protecting George from seeing me upset. She calls me regularly to check in and it all means so much. All this time she has been there to offer advice, help to arrange counselling as well as practical support at home.
"So many of our hospital stays have been brightened up by the beautiful rooms Momentum has decorated. The bold colours are wonderful and make the rooms feel much more child friendly. I have spent a lot of time looking at the designs on the walls and one of my favourites features young children playing together, happy and having fun. Essentially that is what every child wants to do – have fun with their peers.
I think the sentiment of looking to brighter times with their family and friends and going on fun adventures is what every hospital room should convey."