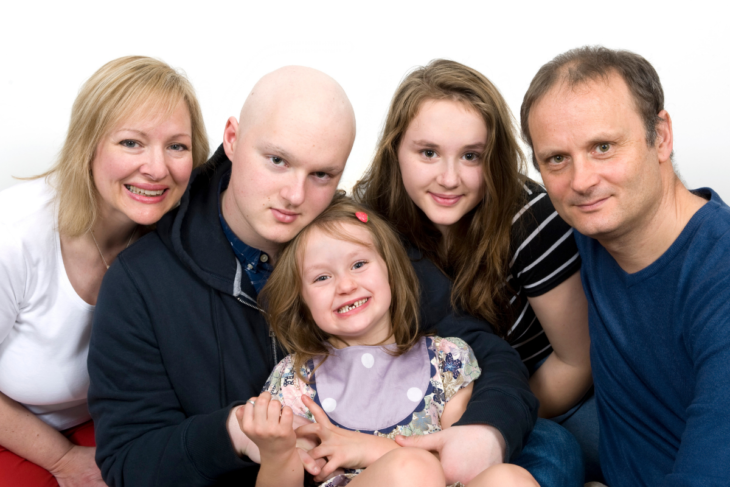 On 9th July 2013, my 15 year old son Ed wandered into my bedroom to tell me that he'd found a lump in his right testicle. In fact he'd found it a couple of months before, but it came and went, and sometimes he went on Google and scared himself, and other times he just told himself it was nothing. But it got to the point where he couldn't ignore it any more – the lump got bigger and it hurt. My husband Tom got him an appointment with the GP the next morning, but, given that the statistics were very much in his favour, we sent him on his own, expecting a relieved call from him later. Instead, the GP called me at work to tell me that although I shouldn't be too worried, there were going to treat it like it was cancer.
He was seen by a urologist the next day, who sent him for an ultrasound scan. When they took him out of that scan and straight into an MRI scan we knew it was malignant as clearly the medics were looking to see if it had spread. He was booked in to have his testicle removed that Saturday (there is no way of removing testicular lumps safely – they have to remove the whole testicle).
At this point Ed was in Year 10, studying theatre at the Brit School in Croydon – a performing arts school funded largely by the music industry, famous ex students include Amy Winehouse, Jessie J, Rizzle Kicks etc). That week he was enjoying work experience at the Rose Theatre in Kingston, working with the very wonderful Ciaran McConville, who runs the youth programme and has mentored Ed as an actor and writer over the past few years. Ed gamely carried on working, and the night before his operation, five of his friends stayed with him, eating pizza and watching movies and devouring bacon sandwiches the next morning when he was nil by mouth.
People tell you that testicular cancer is a 'good' cancer to get because the cure rate is over 90%. We were comforted by that statistic, and there was a good chance that Ed would have the lump removed, recover from the operation and that would be it. Unfortunately the news was not so positive. The cancer had invaded the blood vessels surrounding it and had travelled up to the lymph nodes in his stomach. The pathology results told us that the 6cm lump was a Stage 3 embryonal or germ cell cancer. These cancers start in the womb, in girls they emerge as ovarian cancer and in boys as testicular cancer. If they spread they follow the central line up through the lymph nodes into the lungs and brain. They can be quite aggressive but respond well to chemotherapy.
Ed was referred to the Royal Marsden and a battery of tests followed. The chemotherapy is pretty toxic and in particular can damage kidney and lung function and hearing, so the Marsden tested his 'baseline' function so they'd know later down the line if the chemo was causing him problems. As cure rates improve, there seems to be much more emphasis on minimising the long term effects of treatment. Ed also had to store sperm as his long term fertility could be affected. Lovely as the team at the Hammersmith Hospital are, the process is as grim and embarrassing for a 15 year old as you can imagine.
In August, tests complete, we went on a family holiday to Wales, a final chance to relax before chemo started at the end of month.
Ed was lucky enough to be treated at the Teenage Cancer Unit at the Royal Marsden, partly funded by the Teenage Cancer Trust, and he had shared care with the paediatric team at Kingston Hospital.He had three cycles of BEP chemotherapy which is a pretty intense regime, involving six days of in-patient care having chemo and fluids 24/7, followed by two weeks at home with weekly visits for a day of chemo. You feel like you're entering a whole new world with a language and sets of rules you don't understand. The chemo wipes out your immune system and sometimes the treatment felt worse than the cancer itself. Ed suffered a deep vein thrombosis in his arm which then caused a clot to go to his lungs, which turned into a bit of an emergency and a blue light visit to St George's. What we didn't know was that chemo makes your blood clot more easily.
With two other children (Flora aged 12 and Martha aged five), two full time jobs and a house move in between, it was tough to keep all the balls in the air, actually it's still really tough!
The unit at the Marsden are just outstanding, and our experience at Kingston Hospital were really positive. We've had help from some amazing friends and family who have looked after the girls when we needed to be with Ed, filled our freezer with food, baked a cake for us every week, to name just a few acts of kindness.
Through all of it though has been the amazing support we've had from Momentum. Like many people in Kingston I was aware that Momentum worked with children with life limiting illnesses but I'm not sure I could tell you what they do. I can now though.
Momentum are a Kingston charity for Kingston children. When this first happens people say 'please let me know what I can do to help' but the trouble is that you don't know what you need. Momentum do. We've always given to charities and never saw ourselves as a family that would 'take' from one, so it was a strange reversal for us. We first came across Momentum in Kingston Hospital when Ed was being treated for his deep vein thrombosis. They have a unique relationship with the hospital and are treated as one of the team. The wards and garden have been made child friendly by them  and the oncology families are well looked after. There's a wi-fi network they fund so you can stay in touch during those long days, laptops and iPads, a cupboard full of toothbrushes, and coffee and even chocolate and little bottles of red wine for those really bad days, and a fridge full of ice cream for the kids who can't eat.
But that's just the start of it. They care for the whole family. While Ed was in Kingston Hospital, his little sister Martha got a box of balloons in the post 'to a very special little sister'. She was thrilled, as was Flora, who got tickets to the Odeon and will be going to see Mama Mia with a gaggle of friends shortly, courtesy of Momentum. At half term they got a goody bag in the post full of pens and pads and all sorts of goodies, and Martha met Father Christmas at Bentalls and went to Winter Wonderland on a London Bus. It's been so tough on both of them and it's great to that they are seen as important in all of this. For Ed, they have been a lifeline. At one of his lowest moments, when he was threatening to run away from the Marsden because the chemo was so awful (very very slowly I imagine), a package arrived for him with some super-cool Dr Dre Beats headphones. He absolutely loves music and could not have been more pleased – the nurses and doctors all noticed the change in him that day and for the rest of the cycle.
And now, as he starts to go back to school, Momentum are funding him to take a taxi to and from the Brit School twice a week (his immune system is too weak to go the train – his oncologist banned it – and we just couldn't afford to fund cabs ourselves).  The very amazing Bianca is a friend and a confidante to him and to Tom and I.
Right now we're waiting to find out if Ed's treatment worked. All the signs are good but it's a tense time. He has to inject Heparin every day to try to disperse his blood clot, and he's still weak and tired from the chemo. He's desperate for his hair to start growing back and to return to some kind of normality, but assuming the chemo has caught his cancer, he'll be followed up for at least ten years. Of course Ed's treatment has been a walk in the part compared to what some children and families experience, and we're acutely conscious of the families who support their children through months and years of active treatment.
He does, however, want to share his story in the hope that other teenagers will speak up if they're worried about an unusual lump or symptom. Here's the great blog I mentioned that talks about spotting children's cancer. Ed is quite depressed and self conscious the moment but determined that he wants to share his story and also help Momentum.