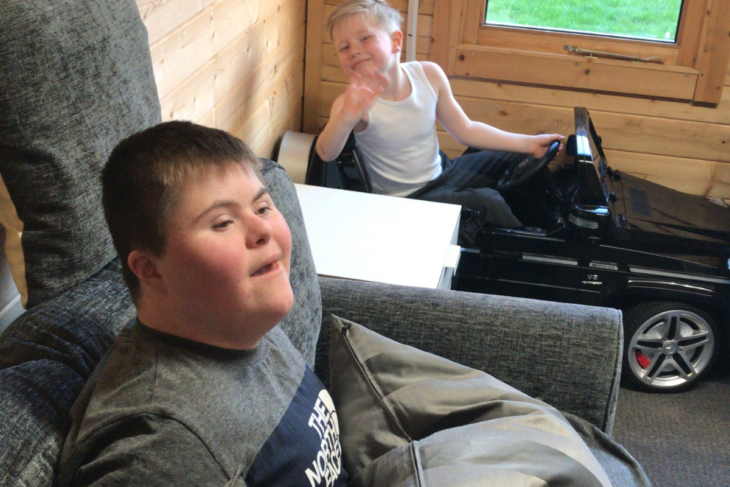 Caring for her teenage son Alfie is a full-time job for mum Sophie, who also has two other sons, Frankie, 11, and three-year-old Dennie.
Sophie said: "Alfie has always had so many underlying health issues. There were heart problems and then heart surgery and then on top of it leukaemia. Really all his life he has been in and out of hospital. It has been very tough on him and the rest of the family."
After being diagnosed with leukaemia in 2006 Alfie had three years of intensive chemotherapy, followed by five years in remission. Then in 2014 the cancer returned and Alfie once again has had to endure gruelling chemotherapy treatment. His current course is due to finish in January 2017.
It was during Alfie's recent cancer treatment that the family were referred to Momentum who have supported them ever since.
Momentum have been amazing. Just knowing there is someone at the end of the phone is so reassuring. When Alfie was well enough Momentum arranged for Alfie to have a course of music therapy. Alfie found it so calming. It was great therapy for him.
For Alfie's brother Frankie's 10th birthday Momentum sent him the surprise present of an X-Box.
Sophie said: "One of the kind ladies at Momentum delivered it in the evening of Frankie's birthday. He had wanted one for ages and was so overwhelmed. It is so lovely how Momentum always thinks of the siblings too. And Frankie has always been such a good brother to Alfie."
Although Sophie and her partner Matthew have accepted Alfie's years of health issues as a way of life, it has been tough on the rest of the family. Alfie's autism means that he can become easily overwhelmed and deeply distressed by new situations and crowds of people, which means that family days out are virtually impossible.
To feel safe Alfie needs a quiet and calm environment. And this is where Momentum was able to help out.
Sophie said: "It is so important for Alfie to have his own space, and I started to think about him having his own den. I liked the idea of it being in the garden as he doesn't like to go outside because the grass under his feet and the trees overhead frighten him, but I wanted Alfie to be able to look at the garden and feel safe."
In the Summer of 2016 Sophie and her husband bought a log cabin for Alfie but the cost of having it constructed was astronomical.
Momentum had links with Berkeley Homes and after a few phone calls to the company to explain the family's situation, they kindly offered to construct the log cabin at the family's house in Feltham free of charge.
It took a week of hard work to build the cabin, which is now complete with a TV, sofa, jukebox and a pool table, for Alfie and his brothers to enjoy.
We were so grateful. Berkeley Homes did such a wonderful job and Alfie adores his new den. It really is his little safe haven…..We can't go on any of the Momentum family trips because Alfie would become too distressed, but the cabin more than makes up for that. A trip is a one-off but the log cabin is there forever for Alfie and his brothers to enjoy.