News
Theatre Buddies: West End stars team up with Momentum
Family trips and experiences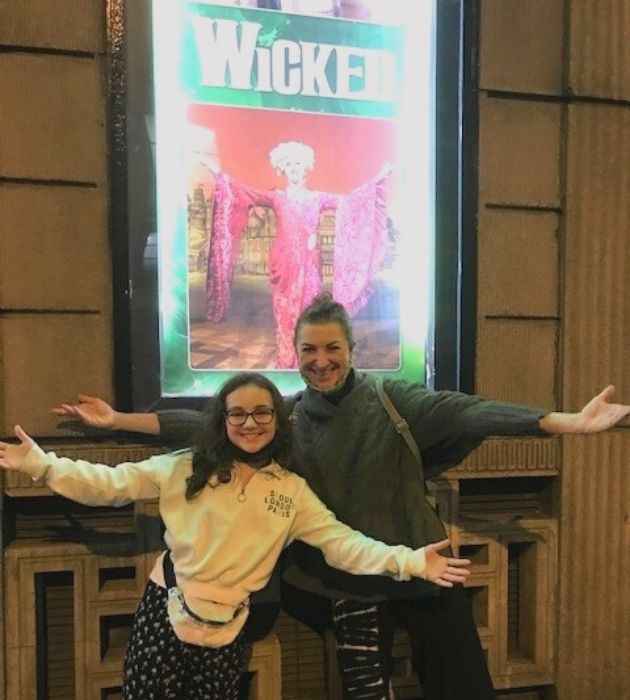 The program is especially close to her heart as it has given her the chance to share her love for theatre with children who have been unable to keep up drama clubs or classes while battling cancer. Kim has now supported three children through the program but first got involved when she was approached by our Founder CEO, Bianca, to support a girl recovering from a recent amputation.
At first Kim contacted the parents to discuss how she could help in more detail and agree the lines of communication that they were happy with. She then kept in touch via Instagram, sharing updates and photos of her and the cast backstage at Wicked.
Kim has gone on to support two other children, including Lois, who has been doing Stagecoach drama classes since she was 5 years old. Lois was diagnosed with Leukaemia when she was 9 years old. The family met Diana, one of our Family Support Workers, very soon after diagnosis and Momentum Children's Charity has been a big part of their lives since then.
Knowing that Lois was a huge fan of all things theatre, Diana suggested the Theatre Buddies program as she knew how much Lois was missing her Stagecoach classes.
Lois was really poorly in hospital when she was told she would be joining the Theatre Buddies program, she was incredibly excited as she had missed a lot of her Stage Coach classes during treatment. She said:
"Being paired with Kim was amazing, especially when she promised I could bring my family to see her performing in my favourite show, Wicked, when I was feeling better."
Cancer treatment plans in children often lasts between two and three years – it is a long, hard slog and children can lose their sense of self as they have to put hobbies on hold. Chatting with Kim and the little treats, like a Wicked notebook arriving in the post one day, really helped lift Lois' mood and keep her passion for drama alive.
Lois said:
"I finally got to meet Kim in December at the end of last year and seeing her perform on stage in Wicked was incredible, it was just the best thing ever. The show was amazing and Kim made it super special. She sent a video with the whole cast the day before we came and when we met up after the show Kim gave me a signed poster and some of the Wicked wizard glasses. My brother and I played with the glasses on the train all the way home!"
Kim and Lois still stay in touch, regularly having video chats about what they are both up to.
The Theatre Buddies program is just one way that we offer unique support to children who have cancer or another life challenging condition. We pride ourselves on tailoring our support to every family to ensure not only that they can keep moving forwards, but that they can still enjoy their childhood during the hardest of times.