News
Sainsbury's Chertsey hosts Philip Hammond MP to launch new Local Charity Partner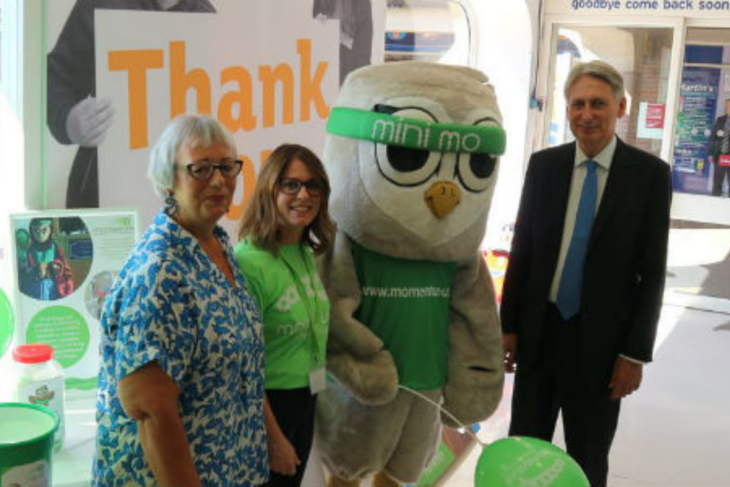 Philip Hammond, local MP for Runnymede and Weybridge joined representatives from the charity and Sainsbury's colleagues in-store to launch and celebrate the partnership.
Momentum Children's Charity, which supports children with cancer and life-limiting conditions and their families in Surrey and South West London, was chosen to be the store's Local Charity of the Year by Sainsbury's customers through a public vote in store and online in June. Through a collaborative partnership, the charity will now receive a range of support such as awareness-raising and fundraising in store, as well as volunteering and donations.
The Local Charity of the Year scheme is now in its tenth year and has raised over £13 million to support local charities since 2009. Every year Sainsbury's works together with its customers and colleagues to support a local cause at the heart of the community. The scheme is part of Sainsbury's goal to generate £400m for charitable causes by 2020.
Bianca Effemey, CEO of Momentum Children's Charity, said: "We're delighted to be named the new Local Charity partner for Sainsbury's Chertsey. We work very closely with Ashford and St Peter's Hospitals and we hope that being chosen as Local Charity Partner will further increase our awareness in the local area, enabling us to reach more children and families that need our support. We'd like to thank everyone who voted for us and we look forward to partnering with Sainsbury's Chertsey."
Emily Berry, Store Manager at Sainsbury's Chertsey, added: "We're thrilled to launch our new partnership with Momentum Children's Charity and welcome Philip Hammond MP to the store. The charity makes a real difference to the lives of those that it works with and we're really delighted to be working together over the next year to give back to the local community. Thank you to everyone who voted and watch this space for ways you can get involved."