News
QBE Foundation will support our annual programme of respite boating breaks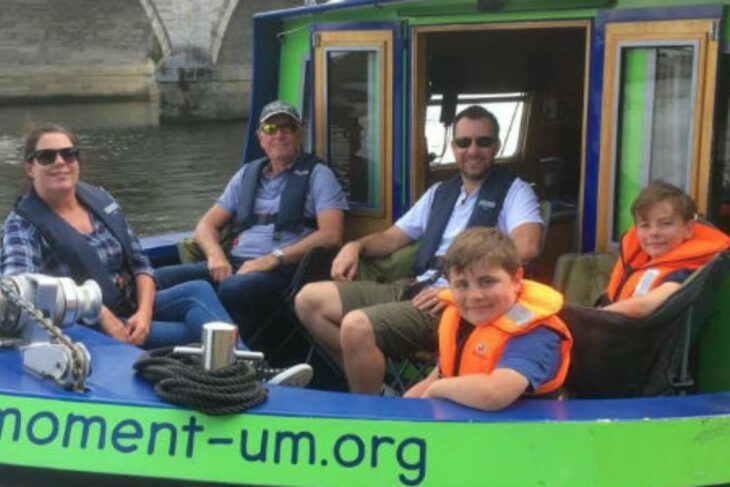 Our charity riverboat 'Moments on the River', moored at Shepperton Marina, allows us to provide a unique service for children with cancer and life challenging conditions, and their families. Helped by over a dozen local volunteer skippers and deckhands, we take families on special respite boating breaks on the river Thames, giving them time together as a family – away from hospitals and treatment – whilst enjoying the peace of the water and the beauty of the riverside environment.
The benefits of these trips are far-reaching, improving the emotional and mental wellbeing for the entire family as well as giving them a fun, shared experience that no longer becomes 'normal' for a family who is caring for a very sick child. The boat is also a tranquil place for bereaved families, whom the charity also supports, to spend time and remember their child.
Parent Kate recently told us "We had such a lovely morning on the boat, we didn't realise how much we all needed a break until we actually did it." She concluded "Thank you so much for a great experience, it really did allow us to forget, for that precious time, the rigours of the treatment schedule. We must compliment the Momentum Children's Charity volunteers Simon and Judy, as they were fantastic hosts.'"
This funding from the QBE Foundation will enable the charity to provide around 85 trips, benefitting approximately 350 seriously ill children, their siblings and parents.
Grant Clemence, QBE Foundation Chairman commented "We're delighted to be supporting Momentum by funding special boat trips for families. These heartening trips provide a much-needed break away from the upsetting times faced with having a seriously ill child."
-ENDS –
QBE Foundation provides a focus and structure for all of QBE's charitable activities and corporate giving. Their role in the community mirrors our role in business, where we are uniquely placed to help people overcome challenges and achieve their goals.
They support charities in a variety of ways, from matching employee fundraising efforts and payroll giving donations, to providing grants to charities and encouraging employee volunteering. Through our discretionary grant scheme, they support healthcare, educational and community-based projects around the UK and in Europe.