News
Perfect play setting for children with cancer created at St Peter's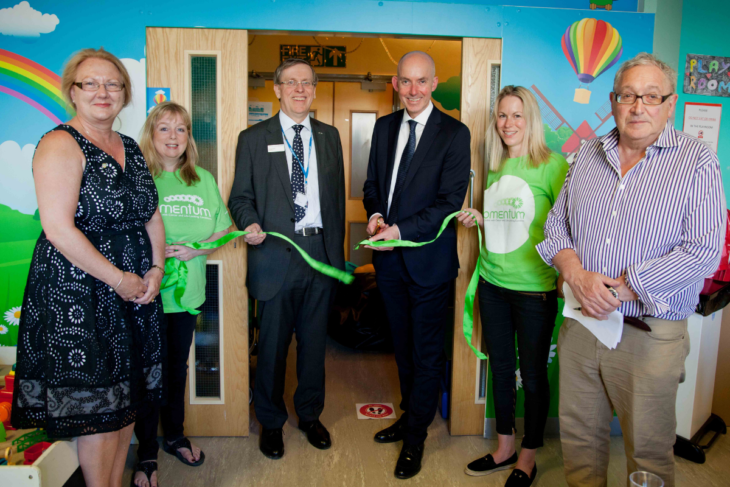 Over the last few months Momentum Children's Charity and the Play Specialists at St Peter's have worked in partnership to plan, design and implement significant changes to the Playroom and Sensory Room. The aim of the project was to create environments that help ease children's anxiety while receiving medical treatment and help children find a sense of normality during their visit to the hospital.
At a time that's stressful and full of uncertainty for the children on the ward, we wanted to create an area that would remind them of who they are, a place that they can find support and understanding, a space intended solely for play.

Izabela Wakula, Play Specialist at St Peter's Hospital
The walls are now full of life and colour but there was a lot more to the project than just the aesthetic changes; there were a number of elements that needed careful consideration. It was imperative that the rooms catered for children of all ages, from newborn babies right through to 18-year-olds. The Sensory Room, used for one-to-one sessions with children, features a soft play area and a beautiful star light projector. The Playroom, which was designed to suit a teenage audience, includes an arts and crafts area and a gaming station, which usually proves very popular with patients and visiting siblings.
This project would not have happened if it weren't for our corporate partner Berkeley Homes, whose incredible fundraising has been put towards the refurbishment that the charity implemented. It will make a huge difference to all children that visit the hospital, especially those on the oncology ward who can spend months in the same environment, bored and frustrated.

Bianca Effemey, Founder CEO
Andy Field, Chairman at the hospital, commented "I would like to say a really big thank you to Momentum Children's Charity for implementing this project, for all their work in planning and designing the rooms along with our play specialists and also a huge thank you to Berkeley Homes for their incredible fundraising that has supported the project and now has made it a reality. We are extremely grateful for this amazing gift and I know it will make a huge difference for all of our young patients!"