News
Owls wow children and nurses at Kingston Hospital
Hospital partnerships
Family trips and experiences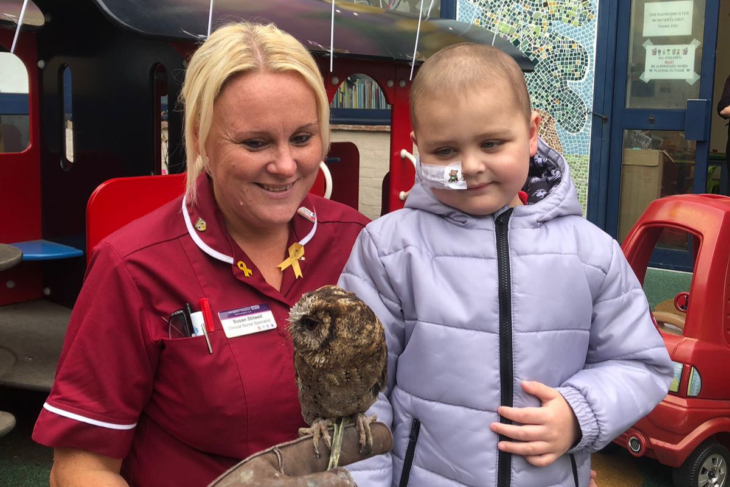 The charity's mascot is the owl, a symbol of protection, wisdom and strength, all the ways in which they hope to be able to support a family through their challenging times. The charity often organises for the owls to visit families at events but this was the first time that the owls visited a hospital. Kingston Hospital welcomed the visit and have taken an active role in spreading awareness about childhood cancer during September.
We were delighted to welcome the owls into the hospital yesterday; our staff and patients were both mesmerised by them. The visit gave children on our paediatric wards and those in children's outpatients a rare and wonderful experience while being in hospital and we would like to say thank you to Momentum Children's Charity for organising the visit.

Nicki Vaughan, Senior Sister for Paediatrics at Kingston Hospital,
Mother of 6-year old Vinny, featured in the photo, said: "It was lovely seeing the owls at Kingston Hospital. Vinny has to visit the hospital every day for a month to receive treatment for cancer. It's really unpleasant for him and the owls were a great distraction. We are very grateful to Momentum Children's Charity for organising the event and it'd be amazing to see more in the future. If a child has a positive experience at the hospital, they won't be so afraid to return."
For the entire month of September charities like Momentum Children's Charity will be supporting Childhood Cancer Awareness Month to help raise awareness. Almost 4,000 children and young people are diagnosed with cancer every year, that's 10 families every single day.