News
New room designs bring calm and tranquillity to children's hospital wards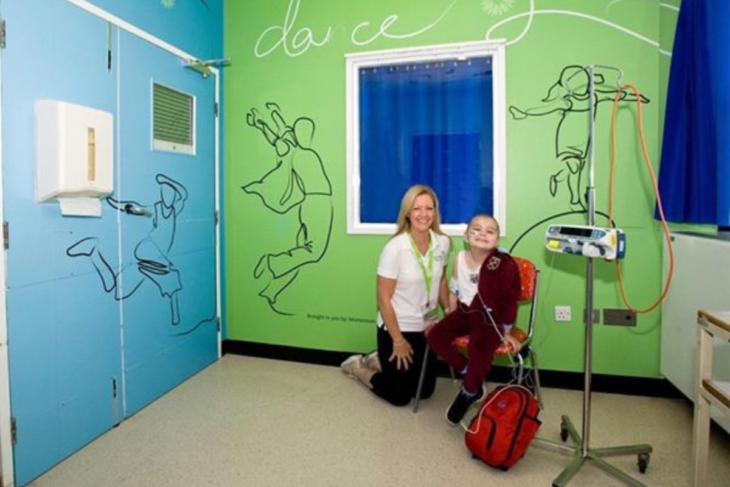 The projects included the refurbishment of isolation rooms within Kingston Hospital, Epsom Hospital and Ashford & St Peter's Hospitals, as well as an outpatient's clinic room within Epsom Hospital. Isolation rooms are used by children with cancer and long-term illnesses to receive treatment and they can often spend days in this environment. The once blank walls now depict a design that flows around the entire room, either featuring dancers or a nature theme. The new designs were carefully considered to ensure they were suitable for children – brightening up the rooms whilst delivering a calming effect.
Three of the rooms were generously funded by AXA XL, who chose Momentum Children's Charity as their UK Charity of the Year partner for 2018, one room was generously funded by Air Charter Service, whilst the final room was generously funded by Fidelity International who has been their charity partner since September 2016.
I love the designs- the colours are very soothing. I really like the way the lines flow around the room- it makes it feel like it is a journey. The design allows your imagination to take you away. I would be so pleased to be in one of these rooms. I also like the way the design is not too busy or cluttered, it means it's easier for patients to add their own touches.

19-year old Ciara, who was diagnosed in April 2016 with Acute Myeloid Leukemia, spent many long days in a hospital room.
Acting Matron for Paediatrics at Kingston Hospital NHS Foundation Trust Hind Thomas, said: "The newly designed isolation room will make such a difference to our patients. The room has been transformed into a bright yet calming space, which will be imperative in helping to relieve the anxiety that many children can understandably feel when they are in isolation. Some of our children can spend several days in this room and an environment like this can really help the healing process."
Casey Ward Manager at Epsom Hospital, Karen Kilday said "Momentum Children's Charity has now completed a total of seven room refurbishments at Epsom Hospital. It really does make a big difference for the children that visit and we are very grateful. A huge thank you to AXA XL and Fidelity International for funding the projects."
Kate Irwin, Oncology Consultant at Ashford and St Peter's Hospitals said, "It is wonderful. The colours are really soothing but nice and bright at the same time. And I love the nature design."
Bianca Effemey, CEO and Co-Founder of Momentum Children's Charity, says, "It has been a fantastic summer and we are so pleased to have completed our children's ward refurbishments. We have a very close partnership with our local hospitals and it's always a pleasure working with them. A huge thank you to AXA XL and Fidelity International who funded three isolation room refurbishments and one outpatients clinic room, across three of our partner hospitals."