News
Momentum provides 3D pain distraction unit for Epsom Hospital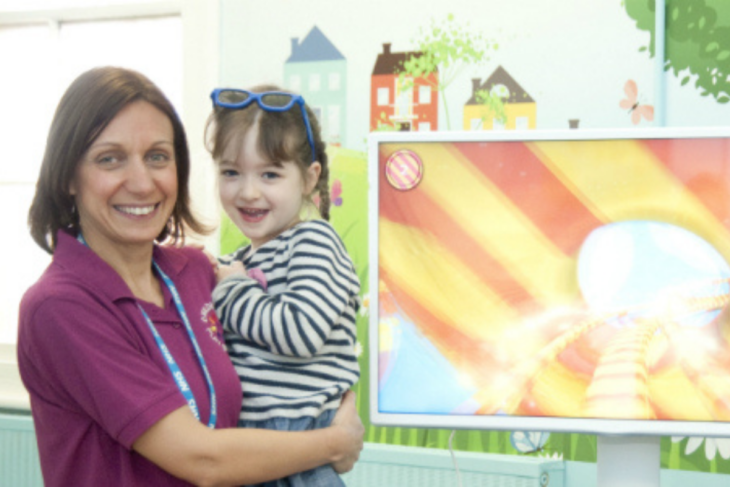 The portable unit, to be used during complex treatment and also more routine procedures that children have to go through such as blood tests or lumbar punctures, displays beautiful and colourful moving 3D images on a screen, helping children to become distracted during stressful or painful procedures.
The Pain Distraction Unit has proven results where it is being used in other hospitals across the UK. Momentum recently supplied a unit to Kingston Hospital, where nurses have described it as being an invaluable addition to the paediatric unit.
Casey Ward manager Karen Kilday said: "I cannot begin to explain what this will mean to the children on the ward. We have many children admitted who have to go through some very necessary but nonetheless traumatic procedures. Very often the thought of having a procedure is enough to frighten children and to be able to distract their thoughts onto something more pleasant can work wonders.
"The 3D distraction unit is used in many tertiary centres and many of our oncology patients are now familiar with it and know that it works for them. To be able to offer this at Epsom when they come for their treatment is a huge boost and means that we can provide the continuity of care that has come to be expected when delivering key paediatric services.
"I would like to extend a massive thank you to Momentum and the Gannett Foundation from all of the team here as well as from the patients who will benefit so much from this amazing and generous donation."
In addition to enhancing the healing environment at Epsom Hospital, Momentum children's charity currently supports dozens of families with children undergoing cancer treatment in the Epsom area.
The Gannett Foundation UK awards grants to chosen charities in communities served by Newsquest Newspapers. Momentum applied for a grant through this scheme last year and was thrilled to learn at Christmas that its application had been successful.