News
Momentum mum raises over £22,000 in the Thames Path Challenge
Family support workers
Respite breaks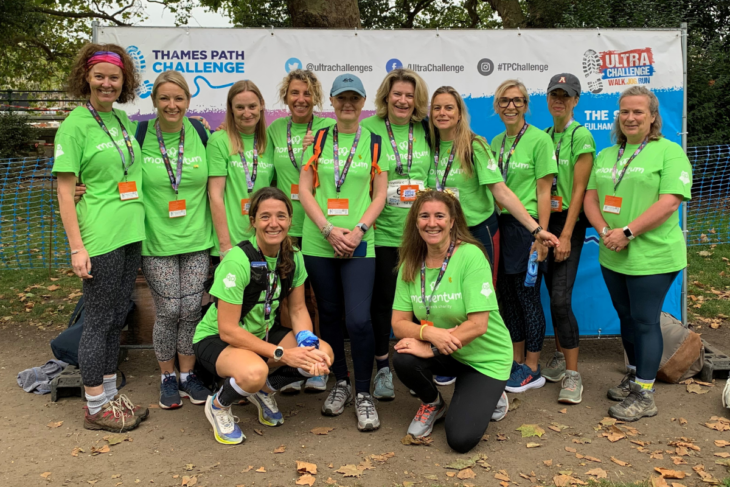 It has been two years since Alice's original diagnosis during which time more tumours have been found in Alice's spine and in January 2020, Amanda took her to Manchester to undertake proton beam therapy. The treatment took place over six weeks and then shortly afterwards, when the nation went into lockdown, the family also found themselves cut off from the friends and family who had been supporting them during this awful time. It was at this point that they met Momentum Children's Charity.
Amanda said "We met Momentum Children's Charity during the thick of lockdown, when we hadn't seen the friends and family who had buoyed and supported us after Alice's initial diagnosis. It was a really difficult and lonely time. The little things they offer, like knowing a Family Support Worker is ready to listen at the end of the phone, food and drinks for parents who are staying in the hospital with their children and a social distanced doorstep Santa visit, have all been big things for our family."
Following the proton beam therapy last year, Alice was found to have further nodules in her spine, having to then go through four months of chemotherapy, followed by six weeks of daily radiotherapy, with all treatment finishing in April 2021. Alice's journey, like many children with cancer, has been strewn with setbacks and she has had to endure a lot of hospital visits, treatment, infusions and medication. The family have managed to find some respite with a wonderful trip on the Momentum river boat 'Moments on the River', some sneaky treats from the Momentum cupboard on the ward at Kingston and also some art therapy for Alice who is very creative.
Last month's walk was a real opportunity for Amanda's friends to rally around to show their support for Alice and the whole family while the cancer treatment continues. Eleven of Amanda's friends joined her on the walk, together raising £22,500 including gift aid.
Amanda said: "The Thames Path Challenge was a wonderful experience, having my friends come together to show their support for Alice's cancer journey but also standing by me, step-by-step, for all 28 kilometres of the walk. I am ecstatic at the amount we have raised, all of which will benefit other children and families who are going through their own cancer journey."