News
Massage therapy returning to paediatric wards
Therapies and wellbeing
Hospital partnerships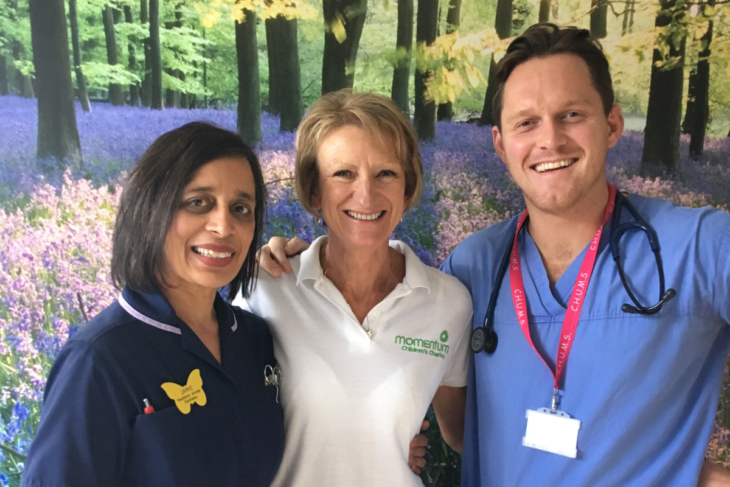 I feel privileged to have worked with Momentum Children's Charity for the past four years. I get to work alongside the most incredible, professional, kind and caring people as part of a multi-disciplinary team and it's rewarding knowing that we are all doing our best to help make each patient's stay in hospital as bearable as possible
Shirley-Anne works across all of our six partner hospitals, taking time to get to know families on the ward so that she can tailor her offering – from the oils she uses on them, to where she needs to focus on the body to be of most benefit to the individual. Sadly, during the pandemic, hers was a service offering that we had to withhold, but we're thrilled to announce that Shirley-Anne has begun to be welcomed back onto paediatric wards, and is already making a positive impact on the patients there.
It was lovely to be able to have Shirley-Anne come in for the first time after lockdown. She ensured that all patients had a voice in what they wanted to have done whilst also engaging with them throughout. The patients seemed to really enjoy their massages and we had great feedback from them all…. parents were grateful for such a lovely distraction for the children.

Play Team at Royal Surrey County Hospital
Whether it's relaxing tight muscles caused by a child's condition, easing anxiety with a gentle hand massage to distract during intrusive procedures or offering parents some supportive stress-relief, massage therapy is an incredibly valuable service offering for everyone.
"It's so rewarding to be back on the wards and has only been made possible through the active help and support of all the NHS healthcare professionals I have the pleasure to work with. Working hard to allow us back on the wards, in a fully covid-compliant way, shows the dedication of our partner hospitals to work alongside us, so that together we can help to improve the lives of young children and families in their care."