News
Kingston Hospital's Dame Jacqueline Wilson isolation room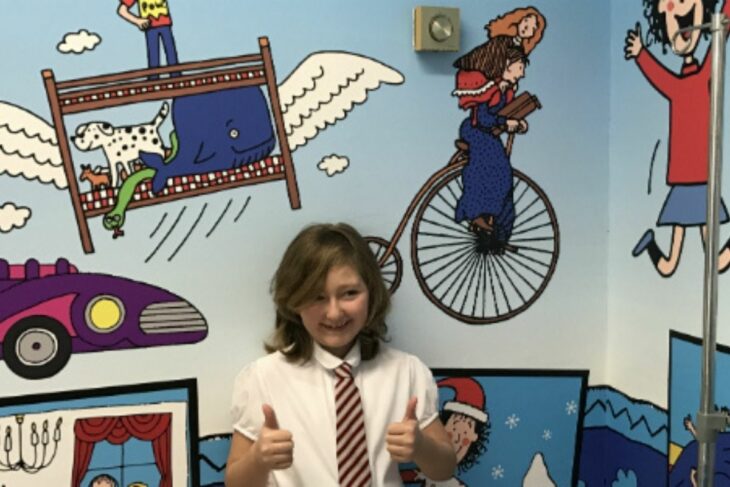 Momentum's patron and much-loved local children's author Dame Jacqueline Wilson is the inspiration our latest Isolation Room refurbishment on Sunshine Ward at Kingston Hospital.
The newly refurbished isolation room will make such a difference to our patients and staff. What was previously a bland-looking space has been transformed into a colourful, fun and inviting room, which is imperative in helping to relieve the anxiety that many children can understandably feel when they are in isolation. Some of our children can spend several days in this room and an environment like this can really help the healing process.

Sarah Shade, Paediatric Matron
Bright and colourful images inspired by Dame Jacqueline Wilson's books, such as Tracy Beaker and Hetty Feather, now adorn the previously plain and clinical walls of the Isolation Room, where very sick children can spend up to several days at a time being treated. With images of children playing in the sea, a hot air balloon and children jumping up and down for joy, each scene on the walls of the Isolation Room tells a story. The storyboard idea was collaboration between Dame Jacqueline Wilson and illustrator Nick Sharratt, who provided many of the original illustrations for Jacqueline Wilson's books. Local graphic artist, Tudor Morris, who was formerly helped by Momentum, designed the layout of the magnificent drawings.
I'm so pleased and proud that Tudor has designed such a wonderful room using Nick Sharratt's illustrations from my books. If looking at the pictures gives a sick child some entertainment or comfort I shall be so happy.

Dame Jacqueline Wilson
The room was completely renovated by Momentum in January 2017 thanks to the generous donation of £6,000 from Newland House School.