News
Global's Make Some Noise donate £80,300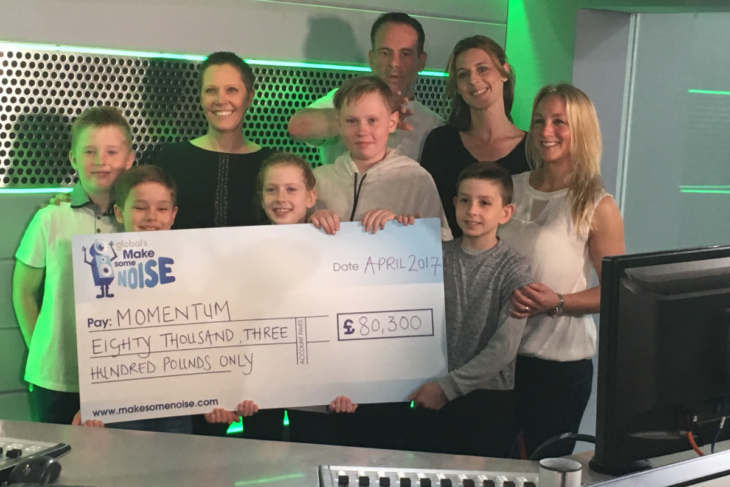 The Kingston-based charity is just one of 35 UK charities who were chosen to benefit from the appeal which aims to make a lot of noise about the children and young people it supports by helping to raise funds and awareness via London radio stations and websites.
In addition to supporting up to 150 families of sick children across SW London and Surrey at any one time through its Family Support Programme, Momentum helps to enhance the healing environment in hospitals by undertaking refurbishment projects on Paediatric Units.
The funds donated by Global Make Some Noise will go towards refurbishing one of the charity's respite holiday homes in the New Forest, the provision of respite holidays to families, and the ongoing programme of family support offered by the charity's Family Support Workers.
Momentum's Chief Executive and Co-founder Bianca Effemey said: "We are thrilled by this absolutely wonderful donation from Global's Make Some Noise. Our holiday programme offers much-needed respite to children, and their families, who are enduring huge challenges with their illness. Knowing we can bring some comfort, normality and 'family time' is wonderful. The donation will also allow our Family Support Workers to deliver the range of personalised and tailored support services we offer, helping local families throughout their treatment journey and beyond. We cannot thank Global's Make Some Noise, and their listeners, enough – we are so grateful for their generous support."
Elaine Austin, mother of Cameron, 11 (pictured, receiving the cheque), who has undergone years of extensive cancer treatment, said: "This funding is just incredible. It's so wonderful because it enables Momentum to reach out to even more families. Sadly childhood cancer is no longer that uncommon and so many families need support from charities like Momentum. I honestly don't know how we would have coped without them."
Global's Make Some Noise was created by Global, the media & entertainment group. The charity unites all of Global's brands, including Heart, Capital, Capital XTRA, Radio X, Classic FM, LBC, Smooth and Gold, to give a voice to small charities and projects across the UK which struggle to raise awareness. Last October, Global united its brands and friends from the world of media and entertainment to give a voice to small charities and projects across the UK that struggle to raise awareness.