News
Epsom Hospital celebrates design improvement project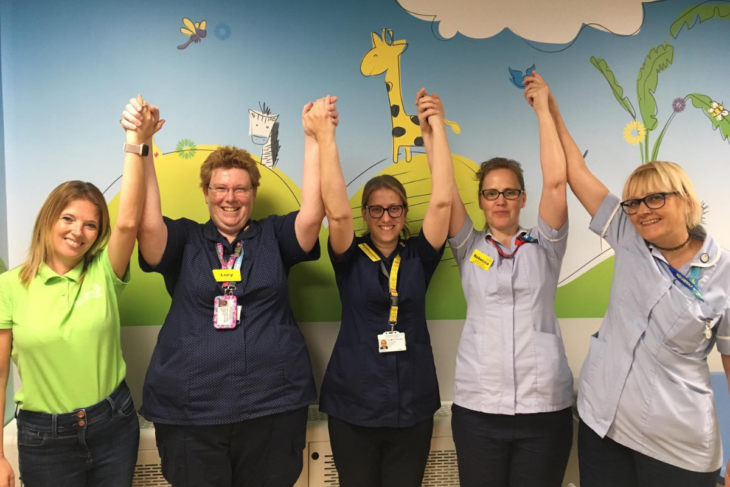 The project was completed at Epsom Hospital, in the Sunshine Clinic (the official name for the Children's Outpatient department), which received a design transformation and is now full of colour and engaging artwork. 50% of children visiting the outpatient clinic are under six years' old and many will be receiving treatment for cancer. Children with cancer in particular spend a huge amount of time in hospital and the charity's goal with the project was to make their visits to hospital a little less frightening.
We love the waiting area, reception and oncology waiting room. The children are already enjoying the new designs, and the play screens are a fantastic addition. The designs in those areas will make a huge difference to those waiting for their appointments.

Hannah Johnson, Junior Sister, Sunshine Outpatient Clinic,
Bespoke designs were created for the five areas within the clinic, including the main entrance and waiting area; the oncology waiting area, treatment room and all the corridors. The new designs bring a sense of harmony and calm to the clinic as well as injecting some colour and introducing even more sunshine to the Sunshine Clinic.
In the special play area of the main waiting room, beautiful wooden play screens that allow the children to escape into a play environment while they wait for their appointments have been installed. The oncology waiting room features a large rainbow on the main wall and some lovely hand drawings of animals on the adjoining walls, while the treatment room has a woodland theme. It's estimated that the wall designs should not require further work for around 5 to 7 years, in which time 60,000 to 84,000 children could have benefited.
The Outpatient Clinic is the fourteenth project we've completed at Epsom Hospital and it's great to celebrate this success. For us, it's all about the impact we can have and it's fantastic to hear that so many children have already been enjoying the new designs and play area we've created.

Founder CEO Bianca Effemey
Momentum Children's Charity support around 200 children diagnosed with cancer and life-challenging conditions, across South West London, Surrey and West Sussex, and a further 75 bereaved families. This year the charity celebrates its 15th anniversary and is hoping to reach its fundraising target of £900,000. Part of the anniversary appeal will enable the charity to continue its work and deliver vital ongoing support to families with children in treatment, and to bereaved families.