News
Charity ambassador and Spider-man visits hometown children's ward
Hospital partnerships
Family trips and experiences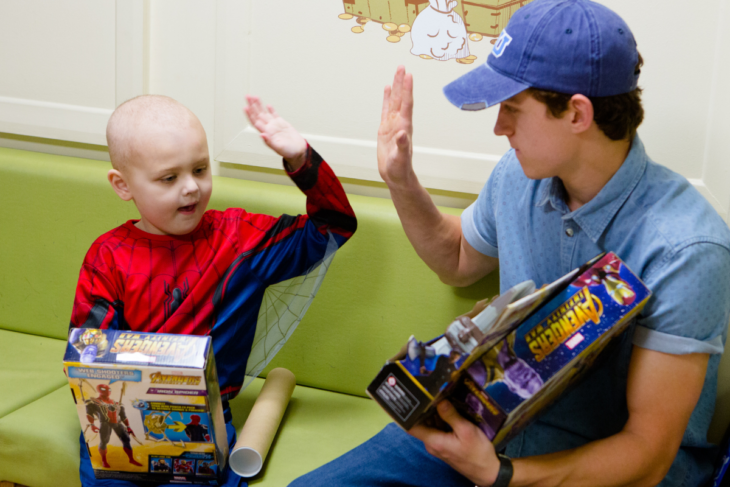 Tom, who was born at Kingston Hospital and grew up locally, took time out from his busy filming schedule for an exclusive event arranged by the charity for children, and parents, it supports.
Momentum Children's Charity supports children with cancer and life-limiting conditions, and their families, across Surrey and South West London. Many of these children are referred for support from Kingston Hospital, where the charity has also carried out multiple refurbishment projects since 2004 and provides a range of in-hospital family support services.
As well as being patron of the charity, The Brother's Trust, which was set up by Tom and his three brothers, selected Momentum Children's Charity as one of their chosen charities.
Tom Holland explains why they chose Momentum Children's Charity; "They have such a passion for what they do and what they want to achieve. They are there for the whole journey and the entire family, for as long as they need them. Through the Brother's Trust I wanted to help a local charity working in the area where I was born and bred. Our fundraising has already helped fund their Family Support Worker programme and Music Therapy Sessions. It was fantastic to meet some of the children today and also see the charity's latest hospital refurbishments."
Sarah Shade, Matron for Children and Young People at Kingston Hospital; "It was great to show Tom around the Paediatric Unit of the hospital, the children absolutely loved meeting him and it really made their day. We have worked with Momentum Children's Charity for many years and it's a partnership we really value. Hopefully Tom will be back to visit again in the future".
Children at the event also delighted Tom by giving him presents and singing Happy Birthday in honour of his birthday which is today, 1 June.