News
Boats go gold for Childhood Cancer Awareness Month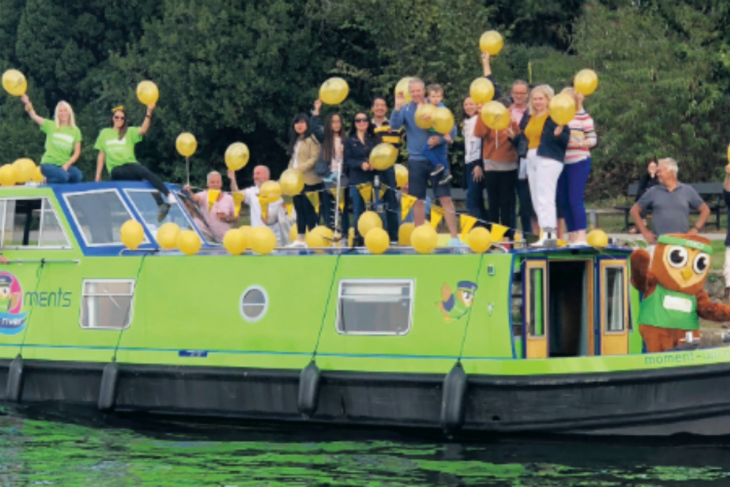 Over 20 boats moored on the River Thames in Kingston took part by decorating themselves with gold balloons and bunting to help spread awareness and show support for the brave local children the charity supports.
Pamela Chart, Vice Chair of the ATYC (The Association of Thames Yacht Clubs) said, "We were all more than happy to decorate our boats in gold for such a worthy cause. What a great idea and what a great day it was."
The charity's riverboat – named Moments on the River – provides children and their families with boating trips on the Thames, giving much-needed respite and 'normal' family time together, away from hospitals and treatment. Over 50 families benefit from the boating break programme each year. The charity also provides a wide range of support services including dedicated Family Support Workers, therapy services and works with six local hospitals to improve the environment for children receiving treatment.
Bianca Effemey, CEO of Momentum Children's Charity says, "I started the charity almost 15 years ago and I feel humbled on a daily basis by the courage shown by the children we support. Going gold is a way to show them support and spread awareness of childhood cancer. During September we are asking more boats to Go Gold, as well as individuals and businesses!"
Find out more, or to request your gold balloons and gold ribbons contact us. Alternatively, you can donate here.
For the entire month of September charities in the UK and worldwide will be supporting Childhood Cancer Awareness Month to help raise awareness. Almost 4,000 children and young people are diagnosed with cancer every year, that's 10 families every single day.