News
Access Self Storage takes on Christmas challenge for charity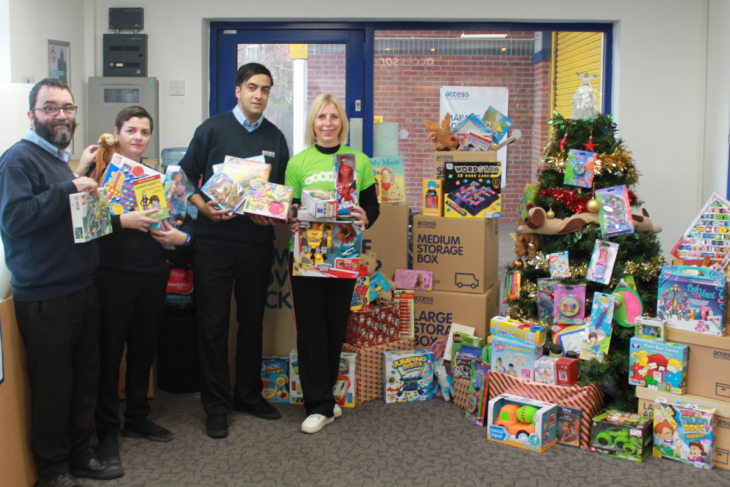 The annual Access Self Storage Christmas Charity Appeal is now open, with the Kingston community invited to drop off brand new toys for their chosen charity, Momentum Children's Charity, at Access Self Storage Kingston before 14th December.
The Momentum Children's Charity is a local organisation that supports children with cancer and life-challenging conditions. The charity supports entire families from all over South West London, Surrey and West Sussex during times of unimaginable hardship.
Donations of brand new toys can be left from now until the 14th December at the reception of Access Kingston at Norbiton Station.
Generous locals are challenged to beat last year's national collection, which saw more than 1,600 presents, including games, books, toys, clothing and even home-made creations given to charity. More than 4,500 gifts have been collected for charities all across the UK in the seven-year history of the Access Self Storage Christmas appeal.
Bianca Effemey, CEO of Momentum Children's Charity says, "We are thrilled to be chosen by Access Self Storage Kingston as the beneficiaries of this year's Christmas appeal. Christmas can be especially tough for families whose children have cancer or a life-challenging condition,  the new toys will give them a much needed boost."
Kingston Store manager Tracy Probert said: "Momentum is such an incredible charity to support.  We urge the community to support us in donating as many new toys as we possibly can for these amazing children this Christmas."
All donations may be left at the reception of Access Self Storage Kingston where they will be stored safely until they are delivered to the charity after the 14th of December.
This Christmas Momentum Children's Charity are aiming to raise £15,000 to help families who are struggling with the pressures of having a child who has cancer or a life-challenging condition. Find out how you can help them reach their target.