News
15th anniversary Crystal Ball raises £82,000!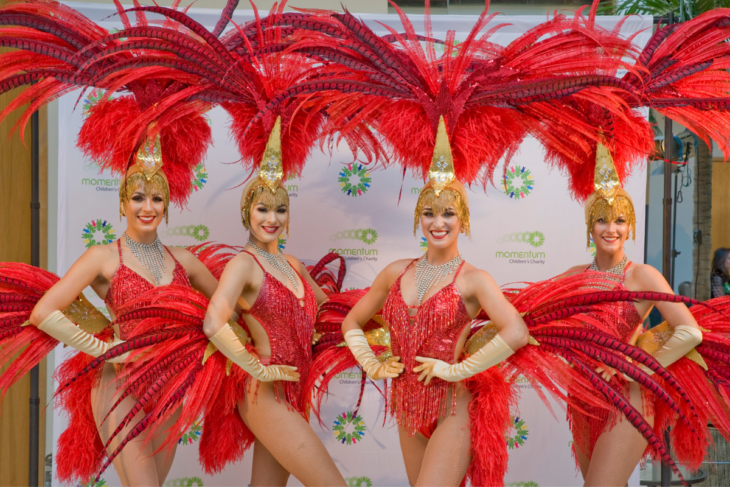 This glamorous, sparkling evening of dinner, dancing and entertainment was a fitting celebration of our 15th birthday, and fifteen years of supporting children with cancer and life-challenging conditions and their families.
Acapella group 'Vo Cal' were in fine voice during the champagne reception and our guests were greeted by 'Lizzie's Showgirls' and two stunning stilt walkers, whilst ladies were invited to have glitter face art applied. Other entertainment included magician Richard Leigh, Crystal Ball readers and a Selfie Booth.
At 8pm Master of Ceremonies, Dominic Holland, introduced our Founder, Bianca Effemey, who gave a warm welcome address, before a delicious three-course dinner, with further spectacular entertainment from 'Donovan and Rebecca', made famous by 'America's Got Talent'.
One of the most poignant moments of the evening was when Louise Wall (a Momentum Mum and now fundraiser for the charity) bravely shared her story. Louise gave a heartfelt insight into the challenges she and her entire family faced when her daughter Chloe was diagnosed with leukaemia aged 4, and how important the support from Momentum Children's Charity was throughout Chloe's illness and beyond.
We were also grateful to our celebrity supporters who took time to film Happy Birthday messages, which were shown on the night: Dame Jacqueline Wilson, Tom Holland, Phil Glenister, the cast of MAMMA MIA! Dom Wood and Basil Brush, plus Jonty Stephens and Ian Ashpitel (aka Eric and Little Ern)! Special thanks also go to Trustee Hilary Paxman for making us an incredible birthday cake, which was presented to Founder Bianca Effemey before the dancing and music, performed by 'Chocolate Charlie'.
As well as being a celebration of the last 15 years, the Crystal Ball aimed to raise funds for the charity, with a Silent Auction (iPads supplied by Jumblebee) fetching almost £23,000, and a Live Auction – professionally managed by Edward Rising, formerly of Sotheby's – with nine Lots raising £42,350! In addition, £13,000 was raised from pledges on the night, and £4,800 from a raffle, bringing the grand total to just under £82,000! This is a truly unbelievable amount, totally surpassing all our dreams and expectations, and we are so grateful to every single guest and supporter who contributed to make this happen.
It was an absolutely fabulous night and one which we will never forget.
Momentum Children's Charity would like to thank the following for supporting this event:
All the guests who attended the event and bought raffle tickets, made bids in our Live and Silent Auctions and made donation pledges
Morrisroe and Genuine Solutions our Table Sponsors
Victoria Martini, Lisa Spinks and Tara Paul for their help on the Crystal Ball Committee
Trevor Nichol and Brian Buchanan for lighting and sound, plus SLX and Autograph for providing A/V equipment.
Optoplast (Gabbie and Sophie) for the design and print of our Crystal Ball brochure.
Debbie Wastie for the beautiful flower arrangements.
Amena Hasan for editing our birthday messages film.
Our auction and raffle prizes were generously donated by:
Air Charter Services
Dr Mark Aitken
Arsenal Football Club
ASOS
The Blades
BMW/PGA Championship Golf
Orlebar Brown
Chelsea Football Club
City Cruises PLC
James Conway
Coral Reef Club
William Differ
Diffusion
The French Table
Aarash Ghatineh
Christopher Gotla
Robert Holmes Estate Agents
Hotel Café Royal
Nikki and Mark Howard
The Ivy Café Wimbledon
The Jockey Club
Jumblebee
MAMMA MIA!
Katy and Wayne Mepham
Mark Mosimann
Miso Tasty
Neom
Quintain
Park Brewery
Taina Pearson
Caroline Randall
Simon Richards
Rosalina Skincare
Rules Restaurant
Show Dry Salon
Silent Pool Gin Distillery
Simpson Travel
Phil Swallow
Nathalie Perez
Roger Taylor
Charlotte Tilbury
Waldorf Hilton
Our raffle winners were:
1st – 5329 – One-night for two at the Waldorf Hilton, breakfast in Homage restaurant, two tickets to see Book of Mormon and dinner at Rules restaurant
2nd – 2657 – £250 of ASOS vouchers
3rd – 1078 – Two tickets to see Jess Glynne
4th -1325 – Magnum of champagne
5th – 1253 – Luxury Arbonne cosmetics hamper
6th – 2051 – Luxury hamper
7th – 2823 – Orla Kiely handbag and purse
8th – 2639 – Charlotte Tilbury makeover kit
9th – 3552 – Miso Tasty cookbook and goodies
10th – 3978 – Rosalina Skin care gift box
11th – 2952 – Neom gift set
12th – 4221 – Caroline Randall gift voucher
Thank you to Amanda Duncan for taking professional photographs on the night, to view the full album visit our Facebook page.