Sports & challenges
Swim Serpentine
Registration deadline: TBC
Distance: Choose from half mile, one mile or two miles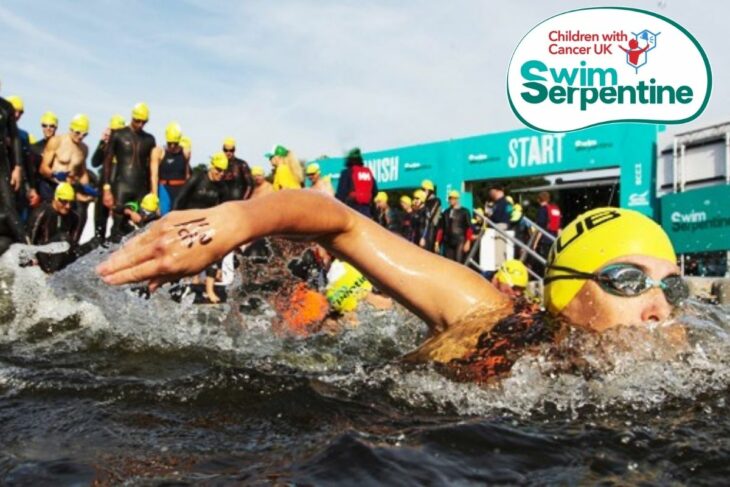 Organised by London Marathon Events, this is a not-to-be missed, open water swim event held in and around the lovely Serpentine in Hyde Park; the very same venue for the open water swimming competition at the London 2012 Olympic Games no less!
As it's an event that takes place on the 17th September, it's also a great way to do something positive for Childhood Cancer Awareness Month.
You can choose your distance with options of 1/2 mile, 1 mile or 2 miles and there's plenty of lakeside activity for friends and family to enjoy as they cheer you on.
Minimum fundraising targets:
½-mile: £100 
1-mile: £160
2-miles: £225
How your support helps
£5 Could restock a hospital fridge with ice lollies and cold drinks to help soothe child suffering with side effects of chemotherapy
£12 Could fund a 'creative and wellbeing' pack to be delivered to families in isolation whose child has cancer or a life-challenging condition.
£30 Would offer a child a virtual educational support session, supporting their learning and building confidence whilst they are in isolation at home due to the Coronavirus crisis.
£100 Provides 5 hours of personalised support for a seriously ill child, their siblings and parents from a Momentum Children's Charity Family Support Worker.
Need more inspiration? Read some of our incredible family stories.
If you're up for the challenge, and like the idea of making a difference to hundreds of young lives, then we have a charity place with your name on it!