Sports & challenges
Wing walking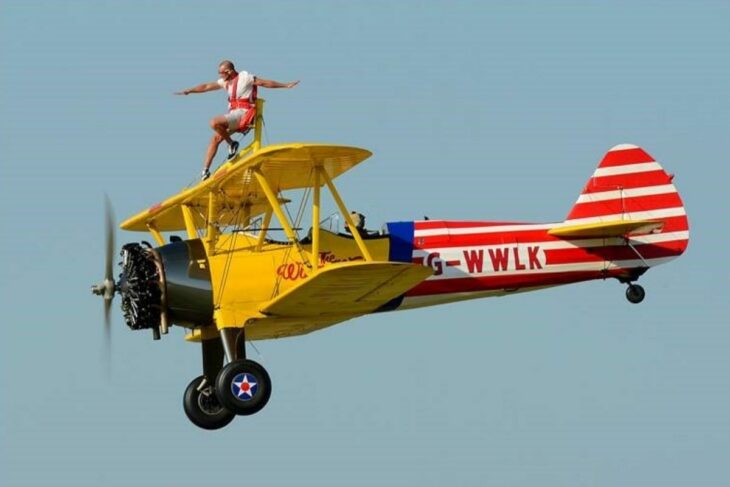 This one is for the hardened thrill seekers amongst you. If you've already ticked a bungee jump and sky dive off your bucket list, then standing on top of a WW2 biplane as it soars through the sky at speeds of up to 110mph should be next on your list.
By doing it as a member of #TeamMo and helping to raise vital funds to support children with cancer and life-challenging conditions, you'll get:
A bright green Momentum Children's Charity top to wear on the day – perfect for spotting you from the ground.
Leaflets and more to help boost your fundraising activities – we ask for a minimum fundraising target of £750 per person.
A great sense of achievement and loads of support from our fundraising team.
A valid and worthy reason for your family and friends to not call you crazy for wanting to stand on the wing of a plane mid flight.
Flights can be booked mid-April through to mid-October and, as sessions can be booked from 9am – 5pm, there's room for up to 18 people to fly in one day. So whether you want to fly solo, double dare the whole family to give it a go or take team building to an entirely new level, this is one not to be missed.
Please note some restrictions apply:
Age: 18 – 80
Weight: 13st 4lbs (85kg) maximum


How your support helps
£5 Could restock a hospital fridge with ice lollies and cold drinks to help soothe child suffering with side effects of chemotherapy
£12 Could fund a 'creative and wellbeing' pack to be delivered to families in isolation whose child has cancer or a life-challenging condition.
£30 Would offer a child a virtual educational support session, supporting their learning and building confidence whilst they are unable to attend school.
£100 Provides five hours of personalised support for a seriously ill child, their siblings and parents from a Momentum Children's Charity Family Support Worker.
Need more inspiration? Read some of our incredible family stories.