Sports & challenges
Tandem skydive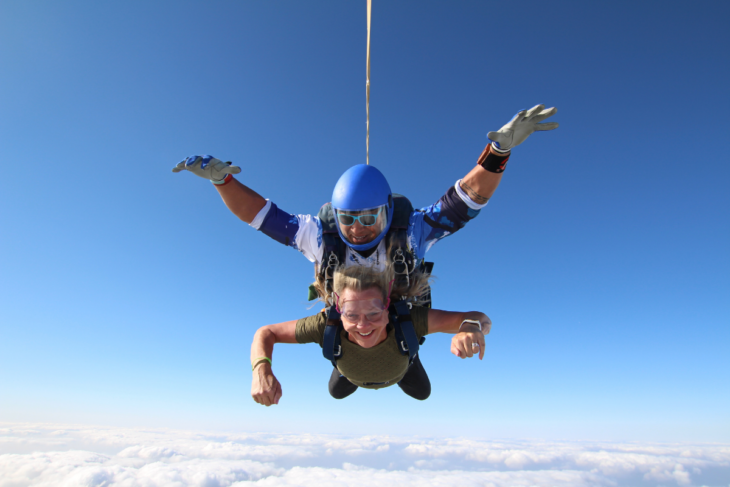 The joy of a tandem skydive, apart from that extraordinary adrenalin rush and thrill of seeing the earth rush to meet you, is that no previous experience is required. You'll be attached to an instructor who is in complete control of your jump throughout so all you'll need to do is kick back and enjoy the ride!
You can do all this for FREE, at the same time raising funds for Momentum Children's Charity and there's various locations to choose from too.
You will need to provide a £70 booking deposit, which can, if you wish, be taken out of your minimum sponsorship of £395.
The minimum age to take part is 16.  Weight restrictions vary between jump sites so please check before booking.
Are you up for the challenge?  
We will support you in achieving your sponsorship target so that you can experience this amazing thrill for FREE!
If you have any questions, you can check out FAQs. If you still have a question, just drop us an email on fundraising@momentumcharity.org or give our team a call on 020 8974 5931.
How your support helps
£5 Could restock a hospital fridge with ice lollies and cold drinks to help soothe child suffering with side effects of chemotherapy
£12 Could fund a 'creative and wellbeing' pack to be delivered to families in isolation whose child has cancer or a life-challenging condition.
£30 Would offer a child a virtual educational support session, supporting their learning and building confidence whilst they are unable to attend school.
£100 Provides five hours of personalised support for a seriously ill child, their siblings and parents from a Momentum Children's Charity Family Support Worker.
Need more inspiration? Read some of our incredible family stories.