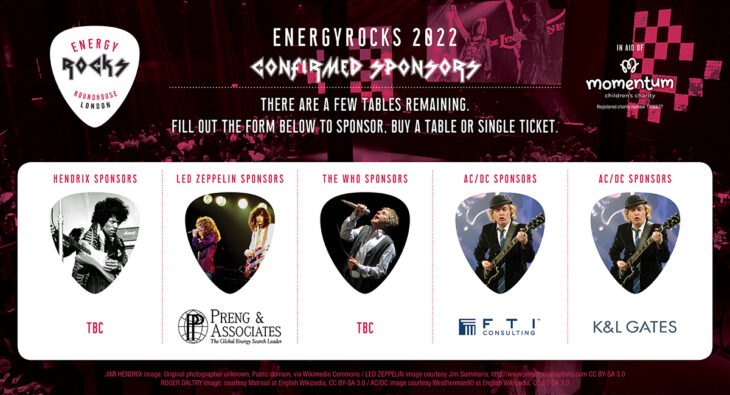 We're delighted to announce that we are the chosen charity partner for 2022's EnergyRocks; the lively energy sector event.
We're incredibly grateful to our event sponsors Preng & Associates, K&L Gates and FTI Consulting, whose generous sponsorship invests in our vision to support even more families whose child has cancer or another life-challenging condition.
EnergyRocks 2022 will take place on Thursday 17th March at the iconic Roundhouse in Camden, where the likes of legendary rock performers The Who, Jimi Hendrix, The Rolling Stones and The Doors have performed over the years. It's set to be an electrifying evening of entertainment, with star-studded special guest performances supported by house band Red Dawg.
EnergyRocks 2022 will build on the previous events which have raised more than £100,000 for selected charities and the evening is set to be spectacularly good fun, offering:
Reception, three course dinner and bar.
Live music and fundraising activities throughout the evening.
Outstanding networking opportunity, in a unique setting.
Partners, friends and colleagues welcome.
You can find out all the details, including our range of sponsorship packages by downloading the brochure here.
We have a few tables remaining, so if you'd like to be a sponsor, buy a table or a single ticket, please fill out the form below. We hope to see you there!
Please note that tables are non-refundable in regular circumstances and refunds will only be offered if the event, EnergyRocks, can't go ahead due to anything beyond the charity's control such as national mourning, pandemic, war, fire, strikes or lock-outs directly affecting the venue or the order of the licensing or any public authority having jurisdiction.