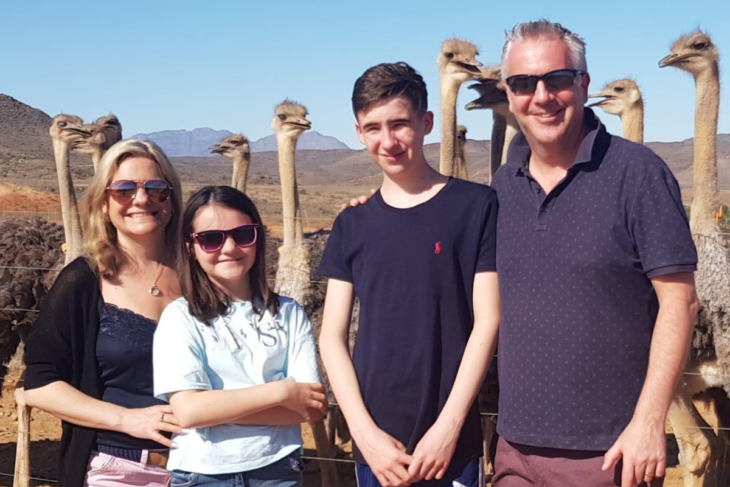 But within two days of the tragedy, support came from an unexpected source. Bianca and Niki from Momentum Children's Charity visited the family and explained that they worked with families following a sudden death and were there to help in any small way they could, from offering emotional support to helping with funeral arrangements.
We were in such shock, I can barely remember that first meeting, but it's been a comfort to know that when we need them, Momentum are there for us. They've supported in ways we didn't even realise we might need.

Mum, Cathy
A couple of weeks after Ben died the family were due to fly to Turkey for a holiday together, but the idea of going away was out of the question. Bianca, Momentum Children's Charity's CEO and Founder, offered Cathy, Mark and Scarlett the opportunity to spend some time on their riverboat on the Thames instead.
Cathy remembers how important that break was for them. "Although it was such an awful time, the break on the boat was a welcome change of scenery and gave us the opportunity to spend precious time together, away from the rest of the world."
Since then, Momentum Children's Charity have been there to provide a whole range of support, from trips to Chessington World of Adventures to family counselling with a specialist psychologist.
Momentum also put Mark and Cathy in touch with another of their supported families, who had gone through their own tragedy three years earlier, and invited them to join their 'Echoes' support group for bereaved families.
For Dad Mark it has been an invaluable part of the process. "Being able to share experiences and spend time with people who can relate to what we are going through has been a source of support during these dark months."
But for Ben's 11-year-old sister, Scarlett, being surrounded by so much sadness was taking its toll. Knowing that Scarlett was a huge fan of musical theatre, Momentum decided to do something special for her to try and bring a smile back to her face.
Scarlett remembers the moment well. "I was watching TV when dad called me from downstairs. I thought I was in trouble, but he told me that one of the stars of Wicked, Kim Ismay, was going to be my 'theatre buddy'. I go to a theatre club every Saturday and drama is my favourite subject at school, so I was so excited and immediately messaged her on Instagram!"
From that first message, Scarlett and Kim have kept in regular contact. Kim sends pictures and messages from the Wicked cast and on 15th November invited Scarlet and Cathy to see the show with two friends. They were given the best seats in the house and went on stage at the end of the show to meet the cast before getting a backstage tour with Kim.
Kim reflects on her experience as a 'buddy': "Scarlett is a delightful and extraordinary girl. She has a great sense of humour and a passion for drama and musical theatre that is truly infectious. It has been an honour to have been able to provide a small amount of light for Scarlett and her family during this time of unimaginable sadness. It really is a privilege to be asked to be a Momentum 'buddy' and think many more families could benefit from this incredible and unique initiative."
While nothing can take away the grief the family are going through, Dad Mark says "the theatre buddy process has been amazing and has given Scarlett a purpose again, a reason to be happy at a time when she is surrounded by sadness. Seeing her so excited whenever she hears from Kim really lifts us all up."
We didn't know anything about Momentum Children's Charity until the worst happened. But we can't imagine the last few months without them. Just knowing that the support is there if needed means so much. The name says it all really – they have given us momentum, they've kept us going."