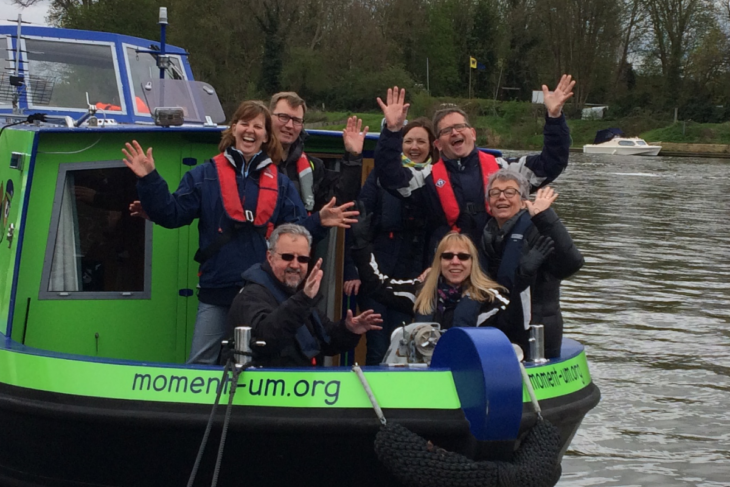 "I first came across Momentum after Kiera was diagnosed with a tumour in her chest, in mid 2006. As a result of the numerous rounds of chemotherapy, we had to spend many days in the isolation room in the children's ward at Kingston Hospital." Jeff explains.
Momentum Children's Charity were always there, not just for Kiera but for both Ann and I too.
"During the daytime they provided lots of activities for Kiera to while away the hours, and when she slept at night there were small treats for us. When Kiera was out of hospital, Momentum continued to be there, one time organising a day trip in a limousine for her and her school friends to see the West End musical, Mamma Mia."
"When Kiera lost her fight against cancer in 2007, after it had spread to her brain, Momentum continued to be there and helped us to arrange her funeral; as her parents, we were so very grateful to have support with that."
Since then, Ann and Jeff have become part of the Momentum Echoes programme; an area of the charity specifically for bereaved parents and families.
Momentum Echoes has been a vital part of my coming to terms with the loss of my daughter. The ability to meet other parents who have gone through the same experience has been so helpful.
" I think particularly for dads who might find it hard to talk about losing their child, having another dad who is on the other side of what they're going through, is priceless. We would meet socially and be able to chat openly and frankly about our losses without fear of upsetting anyone and it has been a good forum for discussing grief and coping mechanisms."
Echoes also offer bereaved families access to other services such as counselling therapies and their respite holiday homes and Moments on the River boat.
"For us, the river has always been a source of calmness and serenity. We have been on several trips on their Moments on the River boat and it's so peaceful. There've also been a few occasions where we've been able to invite along parents that were on the same ante-natal group as we were so, as well as providing the solace we like, it helps us keep in touch with friends who supported us during Kiera's illness."

Momentum offered Jeff the chance to train up as a skipper for the boat, which he did by taking a short course.
"As a skipper, I have also taken the boat out for short day trips for children and their families who are currently going through treatment and are unable to take long breaks. I took one family out a few years ago. Their son was going through treatment and they had never been on the river before. The thrill and excitement that they had felt for just a few hours still resonates with me."
Having been helped by Momentum over the years, Jeff and Ann are loyal supporters of the charity and often give up their time to help other families or to raise much-needed funds.
"Without Momentum Children's Charity, our life at that time would've been much more difficult. We know that families are still going through what we endured, so we feel it's important to give back where we can.
"As well as skippering the boat occasionally, I have become an 'ambassador' for the charity helping to raise their profile by giving talks and presentations at various events. Ann organises an annual Valentine's collection too, which many of Kiera's schoolfriends, now in their 20s, will volunteer to help at as well, as it's a really special way to remember Kiera and a great fundraiser for the charity too."